Air fryer mozzarella sticks recipe. Learn how to cook crispy mozzarella sticks in an air fryer.
Air Fryer Mozzarella Sticks Recipe
You may also like:
Air fryer Crispy Onion Rings Recipe
Air Fryer Zucchini Corn Fritters Recipe
Air Fryer Blooming Onion Recipe
Slow Cooker Vegan Mung Bean Soup Recipe
Slow Cooker Pinto Beans Recipe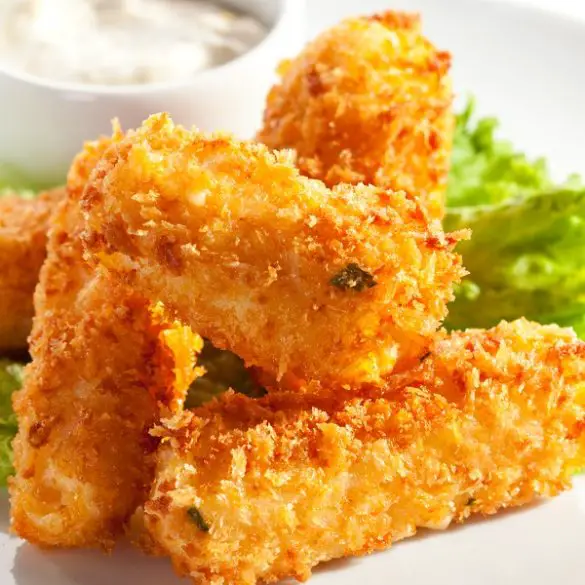 Ingredients
1 large egg, lightly beaten

1 teaspoon Italian seasoning

1/2 teaspoon salt

1 cup Panko breadcrumbs

8 whole milk Mozzarella sticks
Instructions
Line a rimmed baking sheet with wax paper.
In a shallow mixing bowl, combine Italian seasoning, salt and breadcrumbs. Mix well.
Place beaten eggs in another shallow bowl.
Dip Mozzarella sticks into beaten eggs to coat it completely, then dip into the bowl with breadcrumb mixture.
Transfer them to a wax-pepper lined sheet. Freeze for 30-60 minutes.
Remove frozen sticks from the freezer. Dip them into the egg and breadcrumbs again.
Freeze for a further 30-60 minutes.
Preheat your air fryer to 390 F (195 C) for 5 minutes.
Spray the air fryer basket with nonstick cooking spray.
Fry the Mozzarella sticks for 6-8 minutes, or until golden and crispy.