Slow cooker vegan mung bean soup recipe. Learn how to cook healthy and delicious Thai mung bean soup in a slow cooker. Cook it in an instant pot-INSTANT POT MUNG BEAN STEW
Slow Cooker Vegan Mung Bean Soup Recipe
You may also like:
Instant Pot Vegetarian Chinese Fried Rice Recipe
Air Fryer Roasted Pumpkin Recipe
Air Fryer Roasted Carrots Recipe
Slow Cooker Pinto Beans Recipe
Air Fryer Spicy Peanuts Recipe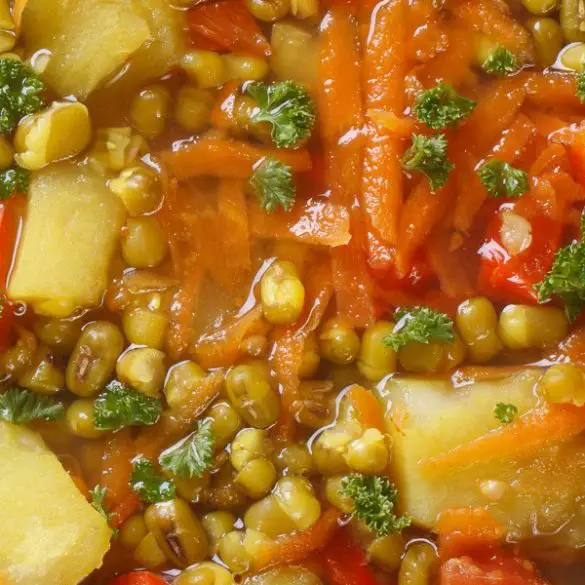 Ingredients
1 tablespoon grapeseed oil

1 yellow onion, peeled and chopped

1/4 teaspoon plus 1/2 teaspoon sea salt, divided

4 cloves garlic, peeled and minced

1 teaspoon grated ginger

1 tablespoon cumin seeds

1 tablespoon Fenugreek seeds

2 teaspoons ground turmeric

1 tablespoon coriander seeds

2¹⁄³ cups Mung beans, rinsed

10 cups (2.5 L) water

2 carrots, peeled and sliced

2 medium potatoes, peeled and sliced

1 red bell pepper, cored and diced
Instructions
In a coffee grinder, combine cumin seeds, fenugreek seeds, and coriander seeds. Grind into a powder.
Heat the grapeseed oil in a large saute pan. 
Add onion and 1/4 teaspoon salt.
Saute, stirring occasionally, until it softens, for about 5 minutes.
Stir in the garlic, ginger, and all spices. Continue cooking and stirring for a further 1 minute.
Add mung beans and cook, stirring for 1-2 more minutes.
Remove the pan from the heat.
Transfer the bean mixture into the slow cooker, then add the remaining ingredients.
Close the pot and cook in a low-heat setting for 6 hours, or until beans and vegetables are tender.
Turn off the cooker and open the lid. Stir the soup well before serving.
Serve hot.