Instant pot Moroccan harira soup recipe. Healthy and delicious vegetarian Moroccan soup cooked in an instant pot.
Instant Pot Moroccan Harira Soup Recipe
You may also like:
Slow Cooker Vegan Mung Bean Soup Recipe
Slow Cooker Pinto Beans Recipe
Air Fryer Roasted Pumpkin Recipe
Slow Cooker Potato and Eggplant Curry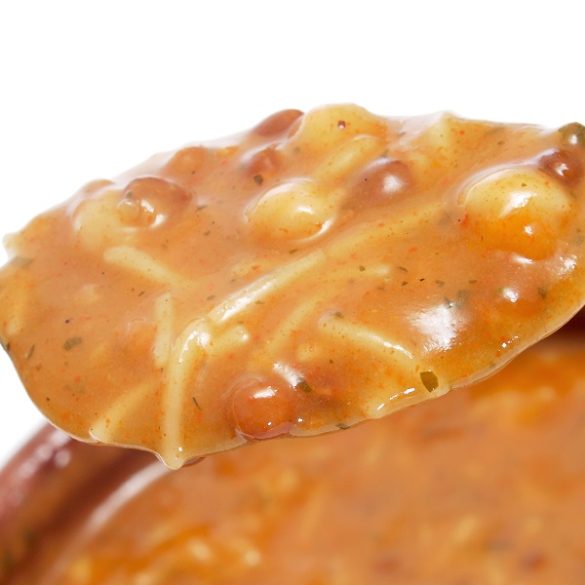 Ingredients
1/4 cup (60 ml) olive oil

1/3 cup (80 ml) uncooked vermicelli

7 cloves garlic, peeled and crushed

1 teaspoon ground cinnamon

1½ teaspoons ground cumin

2 teaspoons sweet paprika

1 cup chopped yellow onion

1/8 teaspoon cayenne pepper

14½ oz (435 ml) can of diced tomatoes

1 cup chopped carrots

3 (14½ oz (435 ml) each)) cans of chickpeas, rinsed and drained

4 cups (1 L) low-sodium vegetable broth

1/2 teaspoon freshly ground black pepper

1/2 teaspoon kosher salt

1 teaspoon sugar
Instructions
Heat the olive oil in an instant pot turned to the saute mode. Add onions and cook, stirring, until translucent.
Add crushed garlic and continue cooking and stirring for a minute or so.
Stir in the cinnamon, paprika, and cayenne pepper. Cook, stirring, for a further 1 minute. Stir in diced tomatoes, then add carrots, chicken peas, vermicelli, and vegetable broth. Season with salt, black pepper, and sugar. Mix well. Cover the pot and lock the lid. Set the machine to cook at high pressure. Set the timer to cook for 7 minutes. Using the natural Release method, bring pressure to normal.
Carefully unlock and open the lid. Mix well before serving. Ladle the soup into soup bowls. Serve hot.