Air fryer zucchini corn fritters recipe. Cook delicious zucchini and corn patties in an air fryer.
Air Fryer Zucchini Corn Fritters Recipe
You may also like:
Instant Pot Moroccan Harira Soup Recipe
Instant Pot Vegetarian Chinese Fried Rice Recipe
Air Fryer Teriyaki Cauliflower Recipe
Air Fryer Roasted Pumpkin Recipe
Air Fryer Roasted Carrots Recipe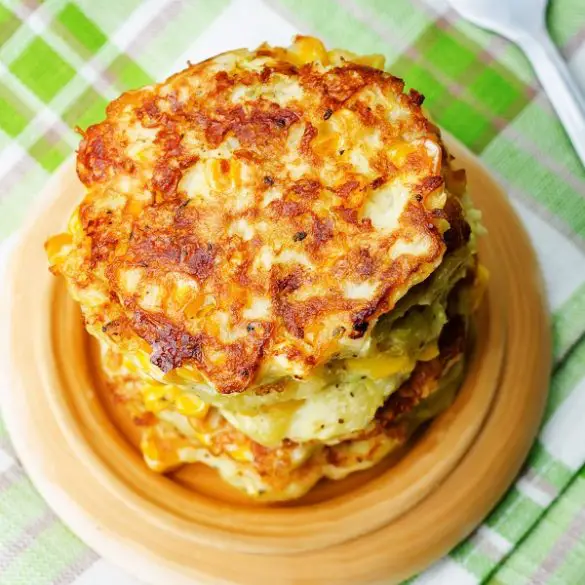 Ingredients
2 medium zucchinis, grated

1 cup (250 ml) corn kernels

1/4 cup grated Parmesan cheese

1/4 cup grated yellow onion

1 clove garlic, peeled and finely minced

1 tablespoon dried parsley

1 teaspoon salt

1/2 teaspoon freshly ground black pepper

1/2 teaspoon dried basil

1/2 teaspoon dried oregano

1/4 teaspoon paprika

2 medium eggs, lightly beaten

1 cup all-purpose flour

1 teaspoon baking powder

nonstick cooking spray
Instructions
Preheat your air fryer to 360º F (180º C) for 5 minutes. Transfer grated zucchini to paper towels and squeeze out as much water as possible. Place squeezed zucchini in a large bowl. Add corn, cheese, onion, garlic, parsley, salt, black pepper, basil, oregano, paprika, and eggs. Mix well. Add all-purpose flour and baking powder and stir well ( if zucchini mixture is too wet, add more flour). Shape the mixture into 10-12 patties. Spritz the air fryer basket with nonstick cooking spray. Working in batches, place patties in a single layer in the grease basket. Spray the patties with more cooking spray. Fry at 360º F (180º C) for 12 minutes, flipping once halfway through. Repeat with the remaining patties. Serve hot.