Air fryer naan flat bread recipe. Learn how to cook yummy Indian bread in an air fryer.
Air Fryer Naan Flat Bread Recipe
You may also like:
Air Fryer Breaded Asparagus Recipe
Air fryer Crispy Onion Rings Recipe
Air Fryer Zucchini Corn Fritters Recipe
Instant Pot Moroccan Harira Soup Recipe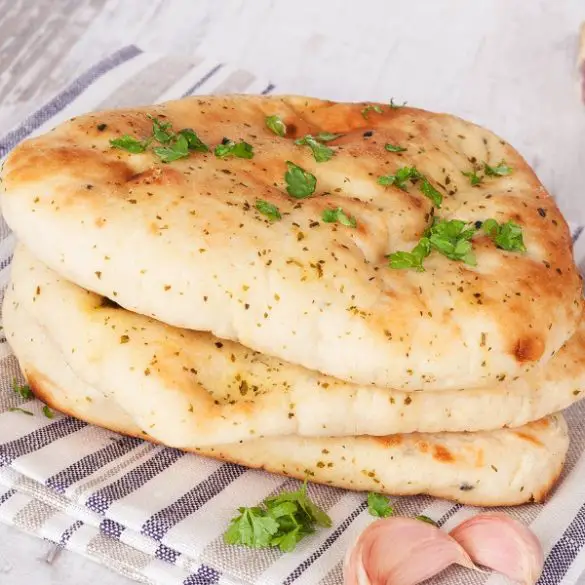 Ingredients
1 cup (250 ml) Greek yogourt

1 cup self rising flour

1 tablespoon melted butter

1 teaspoon minced garlic
Instructions
Preheat your air fryer to 400º F (200º C) for 5 minutes.
In a medium mixing bowl, combine Greek yogourt, garlic, and flour. Mix well.
Place the dough on a floured surface. Cut into 4 pieces.
Using a roller pin, roll out each piece into a flat circle.
Grease the air fryer basket with nonstick cooking spray.
Place bread in the greased basket. Fry at 400º F (200º C) for 10 minutes.
Flip over the bread, spray with more cooking spray and continue cooking for a further 10 minutes, or until both sides are golden brown.
Remove fried bread from the fryer and transfer to a serving plate. Brush with melted butter. Serve hot.