Air fryer vegetarian meatballs recipe. Healthy and delicious vegetarian meatballs cooked in an air fryer. Cook it in an instant pot-Instant Pot Veggi Loaded Meatballs
Air Fryer Vegetarian Meatballs Recipe
You may also like:
Air Fryer Breaded Asparagus Recipe
Instant Pot Pineapple Jam Recipe
Air Fryer Naan Flat Bread Recipe
Air Fryer Mozzarella Sticks Recipe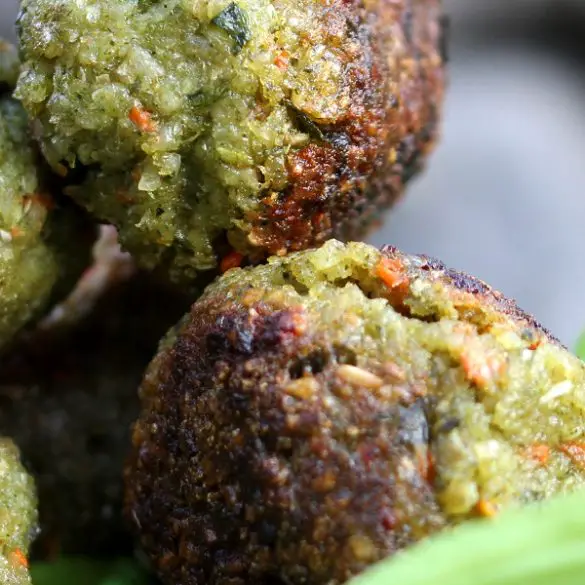 Ingredients
1/2 cup grated carrots

1/2 cup sweet onions

2 tablespoons olive oil

1 cup rolled oats

1/2 cup roasted cashews

2 cups cooked chickpeas

freshly squeezed juice of 1 lemon

2 tablespoons soy sauce

1 tablespoon flax meal

1 teaspoon garlic powder

1 teaspoon ground cumin

1/2 teaspoon ground turmeric

1 tablespoon chopped parsley
Instructions
In a baking dish, combine the carrots, onions, and olive oil. Stir well.
Place the baking dish in the air fryer basket. Fry at 350º F (175º C) for 5-6 minutes.
Meanwhile, in a blender, combine the oats and cashews. Blend until coarsely ground.
Remove the cashew mixture from the blender and transfer to a large bowl.
Add the chickpeas, parsley, lemon juice, and soy sauce to the blender. Blend until smooth.
Remove chickpea mixture from the blender and transfer to the bowl with cashew mixture.
Remove fried carrots and onions from the fryer and transfer to the same bowl.
Add the remaining ingredients. Mix well to incorporate.
Scoop portions of the veggi mixture and shape into balls with your hands.
Transfer veggi balls to the air fryer basket in a singe layer.
Fry at 370º F (185º C) for 12 minutes, or until golden brown, flipping once halfway through.
Serve hot.