Slow cooker roasted tomato basil soup recipe. Cook healthy vegetarian tomato soup in a slow cooker.
Slow Cooker Roasted Tomato Basil Soup Recipe
You may also like:
Air Fryer Vegetarian Meatballs Recipe
Instant Pot Pineapple Jam Recipe
Air fryer Crispy Onion Rings Recipe
Air Fryer Blooming Onion Recipe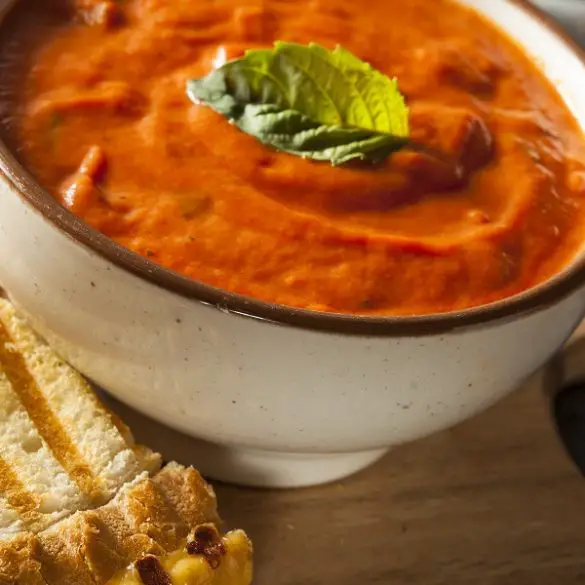 Ingredients
2 pounds (960 g) tomatoes, cored, stems removed, coarsely chopped

1 red bell pepper, seeded and sliced

1 medium yellow onion, peeled and quartered

6 cloves garlic, peeled and smashed

1/2 cup (125 ml) olive oil

kosher salt and freshly ground black pepper, to taste

1 teaspoon dried oregano

1teaspoon dried thyme

1 teaspoon tomato paste

2 cups (500 ml) vegetable stock

1/2 cup fresh basil leaves
Instructions
In a baking sheet, combine tomatoes, bell pepper, onion, and garlic. Drizzle with olive oil.
Roast for 30 minutes, or until vegetables are browned on the edges and fragrant.
Remove roasted vegetables from the oven and transfer them to a slow cooker. Add the oregano, thyme, tomato paste, and vegetable stock. Cover the pot and cook on a high-heat setting for 2 hours. Turn off the slow cooker and open the lid.
Using an immersion blender, purée soup until creamy.
Stack and rolls the basil leaves, then thinly slice. Add some soup and mix well. Serve hot.