Air fryer baklava recipe. Cook delicious Mediterranean dessert in an air fryer.
Air Fryer Baklava Recipe
You may also like:
Air Fryer Vegetarian Meatballs Recipe
Air Fryer Naan Flat Bread Recipe
Air Fryer Breaded Asparagus Recipe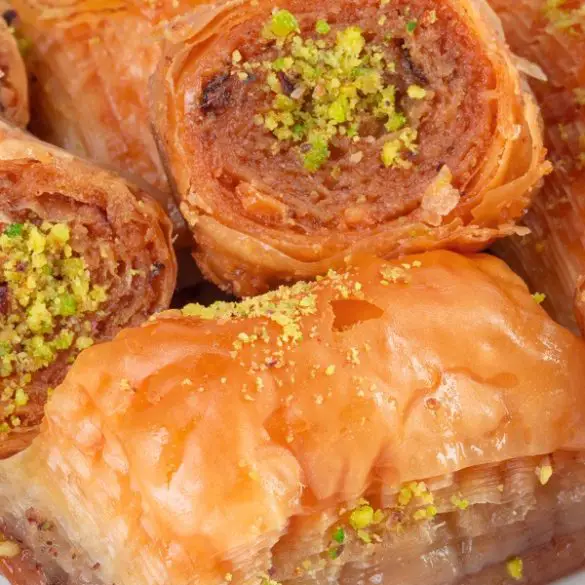 Ingredients
1 cup (250 ml) unsalted butter, melted

3/4 cup (180 g_ chopped pistachios

3/4 cup (180 g) chopped walnuts

1 stick freshly ground cinnamon

1 filo pastry (9-10 oz)

1 cup (250 ml) water

3/4 cup caster sugar

8 tablespoons honey

peel of 1lemon
Instructions
In a medium mixing bowl, combine ground cinnamon and nuts. Toss well and set aside.
Unroll the filo pastry, then cut through the whole stack, trimming it to fit the dimensions of the baking sheet.
Cover the trimmed sheet with a damp cloth.
Place 2 filo sheets in a dish that fits in your air fryer. Brush the top with melted butter. repeat until you have 8 sheets of a buttered and layered pastry. Top with 2-3 tablespoons of nut mixture.
Add more pastry sheets, brush with butter and sprinkle with more nut mixture. Repeat until your dish is full and you have used all the filo.
Using a sharp knife, cut into square shapes all the way to the bottom of the dish. Arrange the dish in the air fryer basket.
Bake at 360º F (180º C) for 15-20 minutes, or until baklava is golden and crisp.
Meanwhile, make the syrup: In a small saucepan, boil sugar and water over medium-high heat, stirring occasionally, until sugar is dissolved. Stir in honey and lemon peel. Reduce heat to low and simmer for 15-20 minutes.
Remove the pan from the heat and set it aside. Allow the syrup to cool.
Discard the lemon peel.
Remove baked baklava from the fryer. Pour the cooled syrup over it. Allow to cool before serving.