Air fryer broccoli quiche recipe. If you're looking for a healthy recipe that's easy to make, easy to eat, and surprisingly delicious, this Broccoli Quiche is the perfect dish.
What are the benefits of eating quiche?
Quiche is a savory baked dish, which is typically made of pastry crust and filled with eggs, milk, cheese, butter, or cream. The quiche can be served as a main dish or appetizer.
Some of the benefits of eating quiche are its richness in vitamins and minerals. Quiche is also versatile in that it can be made more healthy by using vegetables like broccoli, spinach, onions, etc., while also adding some bacon and ham for a more indulgent dish. It can also be used as a way to use up leftover veggies and other ingredients in the fridge for an effortless dinner.
Can I use other vegetables to make this dish?
This is a frequently asked question, and the answer is no. The recipe was created with broccoli, red bell peppers, and cheese, so you have to stick with them.
Air Fryer Broccoli Quiche Recipe
You may also like:
Air Fryer Mac and Cheese Balls
Instant Pot Curried Lentil Soup Recipe
Instant Pot Joumou Soup Recipe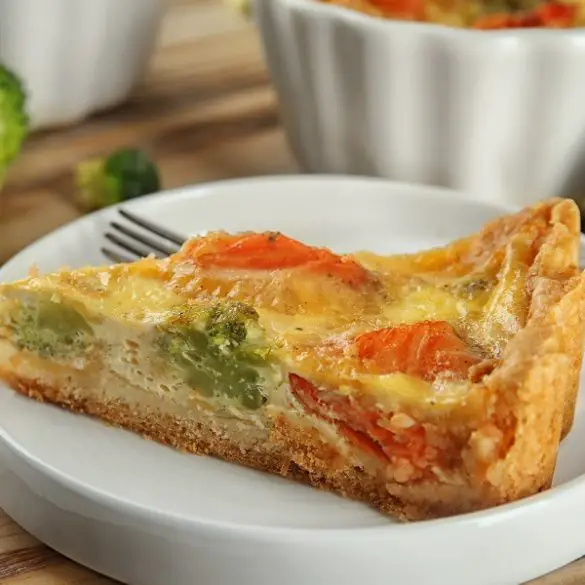 Ingredients
1 cup broccoli florets

3/4 cup chopped roasted red bell peppers

1¼ cups grated Fontina cheese

6 eggs, beaten

3/4 cup (180 ml) heavy cream

freshly ground black pepper, to taste

salt, to taste
Instructions
Grease a baking pan with nonstick cooking spray.
Add the broccoli florets and red bell peppers to the pan, then scatter the grated cheese on top.
In a medium bowl, combine beaten eggs and heavy cream. Mix well. Sprinkle with salt and black pepper and stir again.
Pour the egg mixture over the top of the cheese. Wrap the pan in aluminum foil and transfer it to the air fryer.
Fry at 325º F (160º C) for 8 minutes, then remove the foil and continue cooking for a further 2 minutes, or until the quiche is golden brown.
Remove fried broccoli quiche from the fryer and transfer to a cutting board.
Allow it to rest for 5 minutes before cutting into wedges. Serve warm.