Instant pot apple crisp recipe. Toss in your favorite apple variety, a little brown sugar, some cinnamon, and a few other ingredients for a healthy dessert that you can make in minutes.
What is the best way to serve it?
Serve it with a side dish of fruit for a refreshing, healthy dish.
Serve it alone as a light dessert or snack or with ice cream.
What kind of apples do you need to make this dish?
Apples are an important ingredient in many dishes. They are used for pies, sauces, preserves, and much more. The type of apple you choose to use in your dish will affect the taste because apples have different flavor profiles.
The most common types of apples are Red Delicious, Gala, Golden Delicious, Granny Smith, and Ida Red. These varieties are juicy with a crisp texture when eaten raw. They also have a high sugar content which gives them a sweet taste that people love!
There are other types of apples that you can use to make your favorite dish too! They include Jonathan Apples, McIntosh Apples, Rome Apples, and Queens Apples.
Instant Pot Apple Crisp Recipe
You may also like:
Slow Cooker Mushroom and Dill Soup Recipe
Air Fryer Broccoli Quiche Recipe
Slow Cooker Tomato and Bean Soup Recipe
Instant Pot Caramel Apple Cheesecake Recipe
Instant Pot Curried Lentil Soup Recipe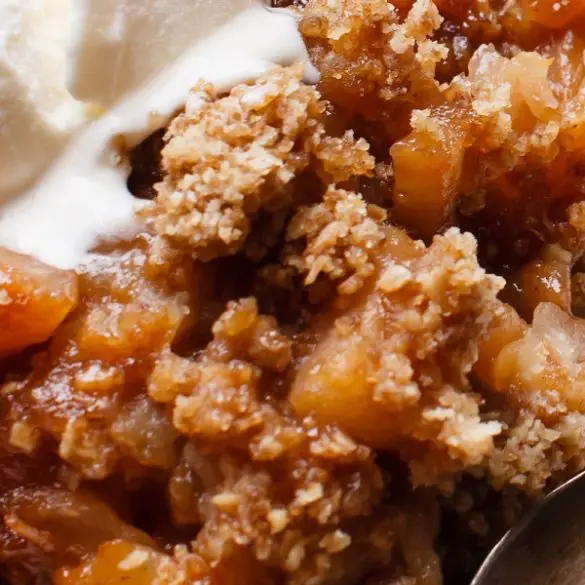 Ingredients
For the Topping:

1/2 cup all-purpose flour

1/2 cup old-fashioned rolled oats

1/2 cup brown sugar

1/2 teaspoon ground cinnamon

pinch of salt

6 tablespoons unsalted butter, cubed

For the Filling:

4 small apples, chunked

2 tablespoons unsalted butter, melted

1 tablespoon freshly squeezed lemon juice

1/2 teaspoon vanilla extract

1/4 cup brown sugar

1/2 teaspoon ground cinnamon

pinch of salt

1 cup (250 ml) water
Instructions
In a medium mixing bowl, combine all topping ingredients.
Mix, using a fork until it resembles small crumbs. Set aside.
Grease a 6-quart 96 l0 instant pot with nonstick cooking spray. Add melted butter, lemon juice, vanilla extract, brown sugar, ground cinnamon, and salt.
Stir well to combine. Add chunked apples and toss well to coat. Pour in water.
Spread the crumb topping evenly over the apples.
Close the pot and lock the lid. Set the machine to cook at high pressure. Set the timer to cook for 1 minute.
Using the Quick Release method, bring pressure to normal. Carefully unlock and open the lid.
Remove baked apple crisp from the cooker and transfer to a serving plate.
Serve with vanilla ice cream, if desired.