Slow cooker herbed mushroom-tomato sauce recipe. The delicious mushroom-tomato sauce was cooked in a slow cooker and served over the cooked Italian pasta.
Are you looking for more easy and delicious vegetarian recipes? Try to prepare Vegetarian Borlotti Soup, another popular Italian recipe cooked in a slow cooker.
You may also like our huge collection of Slow Cooker Recipes, enjoy it!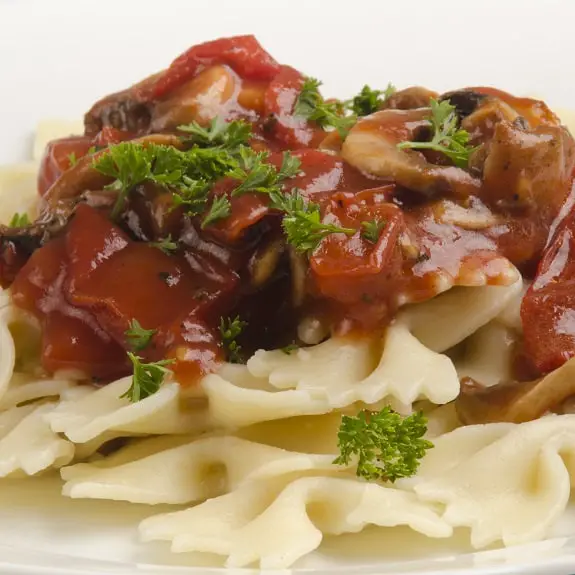 Ingredients
2 14½ oz (435 ml) cans whole tomatoes, cut up

3 cups (750 ml) sliced fresh mushrooms

1 6 oz (180 ml) can tomato paste

1/2 cup (125 ml) chopped yellow onion

2 cloves garlic, peeled and minced

2 teaspoons (10 ml) dried oregano, crushed

2 teaspoons (10 ml) brown sugar

1½ teaspoons (8 ml) crushed dried basil

1/2 teaspoon (3 ml) salt

1/2 teaspoon (3 ml) crushed fennel seeds

1/4 teaspoon (1 ml) crushed red pepper flakes

1 bay leaf

12 oz (360 g) farfalle noodles, cooked and drained
Instructions
In a 4-quart (4 L) slow cooker, combine all ingredients, except cooked farfalle noodles.
Mix well.
Cover the pot and cook on low-heat setting for 8-10 hours.
Turn off the cooker and open the lid. Discard bay leaf. Stir well before serving.
Serve mushroom-tomato sauce over cooked noodles. Enjoy!