Slow cooker vegetarian Borlotti soup recipe. Famous Italian vegetarian soup cooked in a slow cooker. Delicious!
Are you looking form easy and healthy vegetarian recipes? If so, try to prepare Mushroom-Barley Sop in a slow cooker, another easy and tasty vegetarian recipe!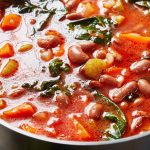 Ingredients
1½ cups (375 ml) dried cranberry beans

6 cups (1.5 L) water

1 vegetable bouillon cube

1 cup (250 ml) diced celery

2 cups (500 ml) baby spinach

1 cup (250 ml) sliced carrots

1 cup (250 ml) diced sweet potatoes

1/2 cup (minced yellow onion

3 cloves garlic, peeled and minced

15½ oz can (465 ml) diced tomatoes

1 tablespoon (15 ml) balsamic vinegar

1 teaspoon (5 ml) basil

1 teaspoon (5 ml) dried thyme

1 teaspoon (5 ml) dried marjoram

1/2 teaspoon (3 ml) dried rosemary leaves

1/2 teaspoon (3 ml) dried oregano leaves

1/4 cup (60 ml) nutritional yeast

salt and freshly ground black pepper, to taste
Instructions
Place dried beans in a large bowl. Pour the water over to cover beans completely. Cover and allow soaking overnight.
Drain soaked beans well and transfer to a 4-quart (4 L) slow cooker.
Add water, baby spinach, bouillon cube, celery, carrots, potatoes, balsamic vinegar, and herbs. Mix well.
Cover the pot and cook on low-heat setting for 7-9 hours., adding tomatoes and nutritional yeast during the last 30 minutes.
Turn off the slow cooker and open the lid. Season the soup with salt and black pepper to taste. Stir well.
Ladle into soup bowls. Serve hot.