Slow cooker easy Mexican corn and bean soup. Easy Mexican corn and black bean soup – a hearty and easy to prepare soup that's perfect for the fall or winter months.
What are the benefits of cooking with a slow cooker?
Slow cookers are a convenient and healthy way to cook. They can be used to prepare a variety of dishes, such as soups, stews, savory sauces, and even desserts.
Cooking with a slow cooker is easy and convenient. You don't have to worry about overcooking your meal since the appliance will automatically turn off when the food is cooked through. It also uses less energy than conventional ovens or stove top.
You can also make large batches of food at once so you don't have to spend time on cooking every day.
What is Mexican Corn and Black Bean Soup?
Mexican Corn and Bean Soup has a rich, savory essence with the flavors of the south of Mexico. It's made by simmering corn kernels, black beans, and spices in chicken broth. The slow cooker makes it easy to prepare this recipe without much effort.
How does this corn and bean soup taste?
The soup is a delicious and hearty meal that will warm you up on a cold day. The recipe is easy to make, and the ingredients are not expensive.
The corn and bean soup tastes like a mixture of sweet, sour, and savory flavors. It's a comforting dish that is perfect for the winter season.
Slow Cooker Mexican Corn and Bean Soup
You may also like:
Instant Pot Beet Hummus Recipe
Slow Cooker Brussels Sprouts Soup Recipe
Instant Pot Red Lentil Soup Recipe
Slow Cooker Vichyssoise Soup Recipe
Slow Cooker Vidalia Onion Soup Recipe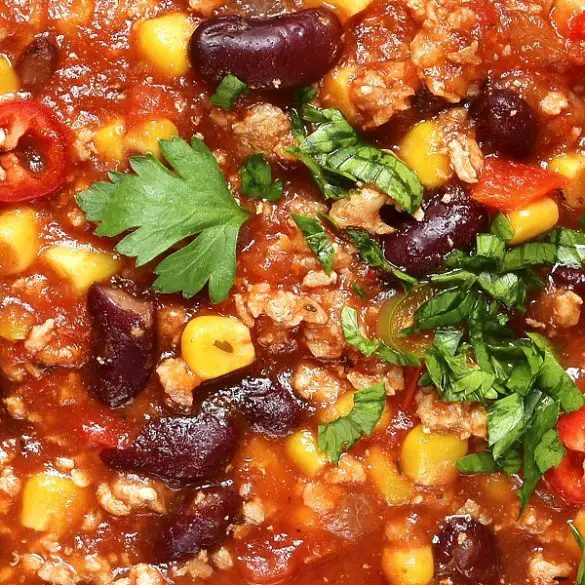 Ingredients
2½  cups (625 ml) tomato juice

14½ oz (435 ml) can diced tomatoes, undrained, pureed

2 cups whole kernel corn

2 cups canned kidney beans, drained and rinsed

3/4 cup finely chopped yellow onion

1 clove garlic, peeled and minced

1 tablespoon chili powder

1 teaspoon ground cumin

1 teaspoon sugar

jalapeno pepper, seeded and sliced

salt and freshly ground black pepper, to taste
Instructions
In a 6-quart (6 L0 slow cooker, combine all ingredients, except jalapeno pepper, salt, and black pepper.
Mix well.
Cover the pot and cook on a high-heat setting for 3-4 hours.
Turn off the cooker and open the lid. Season the soup with salt and black pepper.
Ladle the soup into soup bowls. Garnish with sliced jalapeno pepper.
Serve hot.