Slow cooker mushroom-barley soup recipe. A very easy and delicious vegetarian soup cooked in a slow cooker. Dried mushrooms add an excellent flavor to this soup.
Are you looking for more easy vegetarian recipes? Try to prepare Lima Bean and Tomato Soup in a pressure cooker. Another quick and delicious recipe!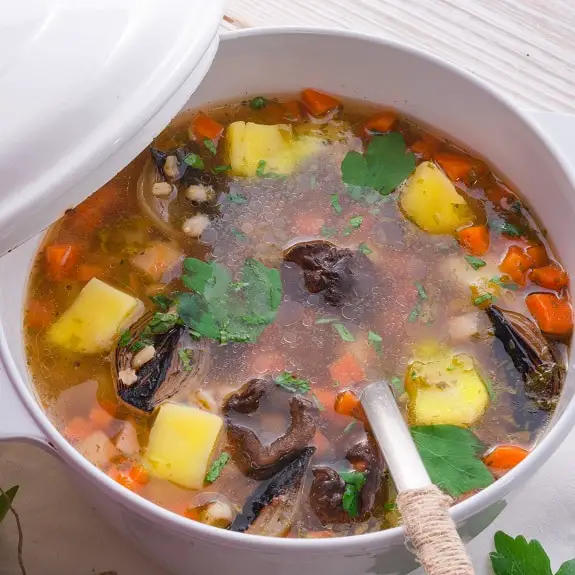 Ingredients
4 cups (2 L) vegetable broth

3 medium potatoes, peeled and diced

1 small yellow onion, peeled and coarsely chopped

1 rib celery, washed and sliced

1/2 cup peeled and cubed carrots

1/2 cup pearl barley

1/2 cup (125 ml_ dry white wine

1/4 oz (7 ml) dried mushrooms, sliced

salt and white pepper, to taste

chopped fresh parsley, as garnish
Instructions
In a 6-quart slow cooker, combine all ingredients, except seasoning and parsley.
Stir well. the pot and cook on low-heat setting for 6- 8 hours.
Turn off the slow cooker and open the lid. Season the soup to taste with salt and white pepper. Stir well.
Ladle into soup bowls. Sprinkle with chopped fresh parsley. Serve immediately.