Slow cooker Pasta Fagioli recipe. Elbow macaroni with beans and vegetables cooked in a slow cooker. This Italian recipe is very similar to this one-Slow Cooker Easy Pasta Fagioli Recipe, but I tried to make it meatless and more comfort for vegetarians.
Looking for more easy and healthy vegetarian recipes? Try to prepare Curried Corn Soup in a slow cooker, another delicious and healthy vegetarian recipe.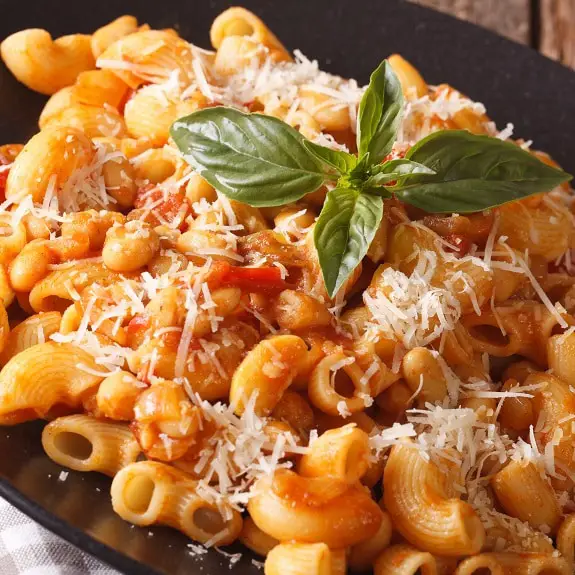 Ingredients
6 cups (2½L) water

2 cups (500 ml) dried cannellini beans

4½ cups (1.250 ml) peeled and seeded tomatoes

1 cup (250 ml) chopped yellow onion

1/2 cup (125 ml) diced celery

1½ tablespoons (22 ml) minced garlic

5 oz (150 g) cooked elbow macaroni

salt and freshly ground black pepper, to taste

grated Parmesan cheese, as garnish (optional)
Instructions
In a 6-quart (6 L) slow cooker, combine all ingredients, except cooked pasta, seasoning, and parmesan cheese (if using).
Cover the pot and cook on low-heat setting for 7-8 hours or until beans and vegetables are tender, adding pasta during the last 20 minutes.
Turn off the slow cooker and open the pot. Season Pasta Fagioli with salt and black pepper.
Remove cooked pasta from the pot and transfer to serving plates. Sprinkle each bowl with grated cheese. Serve hot.