Slow cooker curried corn soup recipe. A very easy and delicious vegetable soup cooked in a slow cooker. A variety of spices and coconut milk make this yummy soup an exotic treat. For vegetarians, substitute the vegetable broth for chicken broth.
Looking for more easy and delicious vegetarian recipes? Try to prepare Classic Zucchini Soup in a slow cooker, it is so good!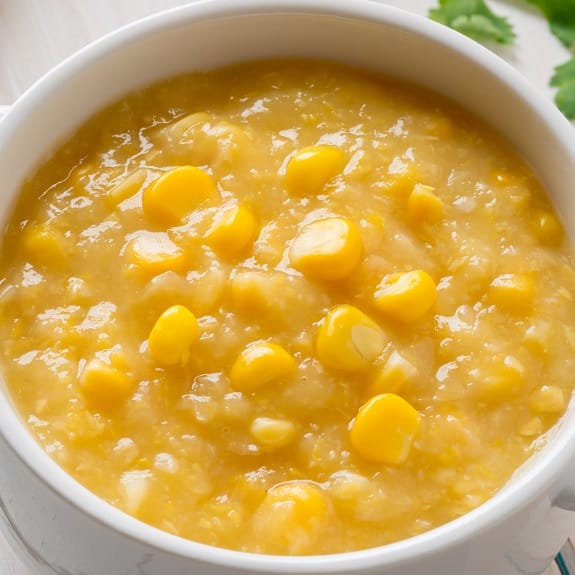 Ingredients
2 cups (500 ml) reduced-sodium fat-free chicken broth

2 cups (500 ml) whole kernel corn

1½ cups chopped yellow onions

1 jalapeno pepper, seeded and finely chopped

1 tablespoon minced garlic

1 tablespoon minced ginger

1/2 teaspoon ground cumin

1/2 teaspoon ground cinnamon

1 cup (250 ml) reduced-fat milk

2 tablespoons cornstarch

salt and freshly ground black pepper, to taste
Instructions
In a 6-quart (6 L)r, combine chicken (vegetable) broth, corn, onions, chopped jalapeno pepper, garlic, and ginger.
Mix well. Cover the pot and cook on low-heat setting for 3-4 hours, stirring in milk during the last 30 minutes.
Increase heat to high and cook for a further 10 minutes, then add combined coconut milk and cornstarch, stirring for 2-3 minutes.
Turn off the cooker. Season corn soup with salt and black pepper, to taste. Ladle into soup bowls. Serve hot.