Air fryer white bread recipe. Too busy to make homemade bread? Let your Air Fryer do it for you!
How is an air fryer different from a conventional oven?
An air fryer makes cooking healthy, fast, and convenient. It cooks food faster than a conventional oven.
With the help of an air fryer, you can cook vegetables and meat without any oil or grease. It also has a pre-set timer that lets you know when a specific food needs to be removed from the oven/pan.
Why does white bread not get browned in an oven?
White bread has a lot of air bubbles in it which prevents the bread from browning.
How long does it take to cook with an air fryer?
Air fryers are one of the most efficient ways to cook food. They fry food quickly and use only a fraction of the oil that is needed in conventional cooking. While this convenience comes with some disadvantages, such as the lack of control over temperature.
The time required to cook a dish with an air fryer varies according to the dish you are cooking. The time required can range from 10 minutes for frozen vegetables to 45 minutes or more for bigger dishes like chicken wings, whole chickens, and ham pieces.
Air Fryer White Bread Recipe
You may also like:
Air Fryer Teriyaki Rice Balls Recipe
Air Fryer Korean Nurungji Recipe
Instant Pot Vegetable Ragout Recipe
Air Fryer Prawn Cracker Recipe
Instant Pot Chicken Meatball Soup Recipe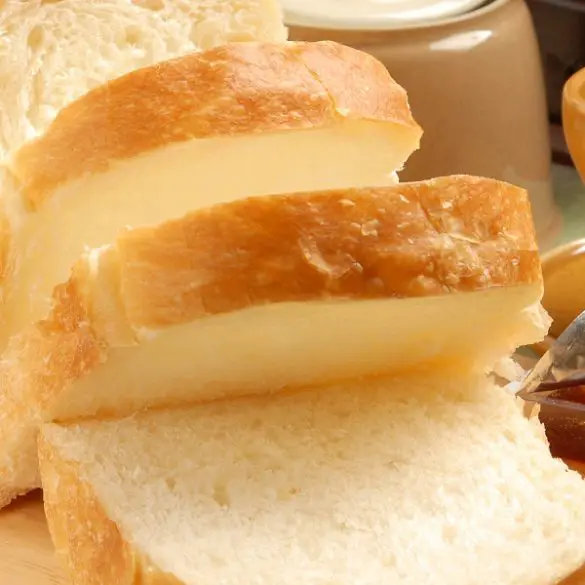 Ingredients
1/4 cup (60 ml) warm water

1½ tablespoons granulated sugar

1¼ teaspoons active dry yeast

1/4 cup (60 ml) warm milk

1/2 teaspoon salt

1 tablespoon vegetable oil

1½ cups all-purpose flour

1 tablespoon unsalted butter, melted
Instructions
In a medium mixing bowl, combine warm water, sugar, and yeast. Mix well and allow the mixture to sit for 10-15 minutes, or until it appears bubbly.
Pour in the warm milk and whisk again. Stir in salt and vegetable oil. Mix well.
Stir in all-purpose flour, 1/2 cup at a time, mixing well until it forms a ball.
Continue kneading the dough on a floured surface for a further 5 minutes, then place it in an oiled bowl and roll to cover all sides in oil.
Cover the dough with a thick kitchen towel, set it aside, allowing it to rise for about 1 hour. Once it doubles in size, punch it down and knead for a further 1 minute.
Divide the dough into 2 pieces and form each piece into a loaf shape. Place loaf in oiled mini-loaf pans. Cover again with paper towels and allow it to rise, for about 30 minutes.
Preheat your air fryer to 400º F (200º C) for 5 minutes.
Brush each loaf with melted butter. Fry at 330º F (165º C) for 12 minutes.