Instant pot vegetable ragout recipe. This is an easy and healthy vegetable ragout that you can make in an instant pot. It's a one-pot meal that will leave you feeling satisfied and full.
One of the most popular ways to cook vegetables is by making them into ragouts. But in order for that to happen, you need to spend a lot of time in the kitchen. With an instant pot, you can get your vegetables done in less than 30 minutes without it taking up too much space in your kitchen.
The one thing I don't like about instant pot ragouts is that they are so thick and heavy.
Introduction: What is a Vegetable Ragout?
A Vegetable Ragout is a dish where vegetables are cooked in a stock. It is often served with rice.
It is made out of vegetables such as carrots, zucchinis, and potatoes that are boiled in stock until softened.
Tips for Making an Awesome Veggie Dish with a Spicy Sauce from Your Instant Pot
There are a lot of people who don't know how to cook in their Instant Pot, or who have never owned one.
Tips:
-Don't skimp on the spices! You will need some dried herbs and spices to add flavor to this dish. All these spices taste better when they are used fresh so it is highly recommended to use them instead of buying them pre-packaged.
-If you have time, prepare the vegetables ahead of time. That way, you can char them without adding too much extra fat into the dish.
Instant Pot Vegetable Ragout Recipe
You may also like:
Air Fryer Prawn Cracker Recipe
Slow Cooker Chicken Massaman Curry Recipe
Instant Pot Chicken Meatball Soup Recipe
Instant Pot Healthy Chicken Noodle Soup Recipe
Air Fryer Loaded Sweet Potatoes Recipe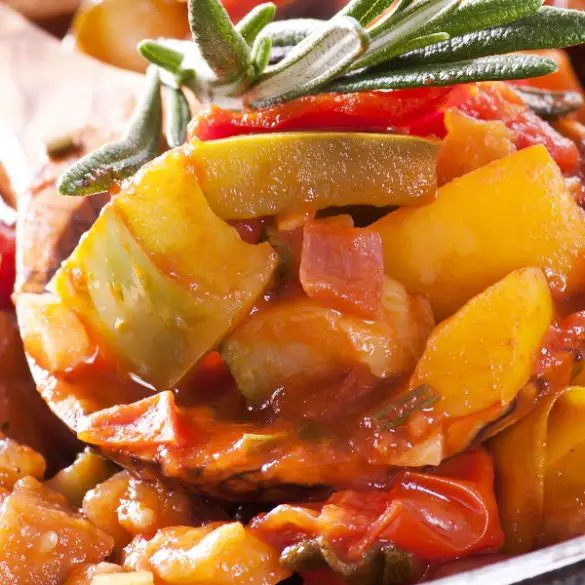 Ingredients
2 tablespoons extra-virgin olive oil

1 yellow onion, peeled and chopped

2 garlic cloves, peeled and minced

4 carrots, peeled and sliced

4 celery stalks, sliced

1 cup chopped zucchini

4 cups (1 L) reduced-sodium vegetable broth

14½ oz (435 ml) can diced tomatoes, undrained

1 pound (48- g_ potatoes, peeled and cubed

1/2 teaspoon dried rosemary or 1/2 tablespoon fresh

1/2 teaspoon dried thyme

1 teaspoon sea salt

1/2 teaspoon freshly ground black pepper

1 bay leaf
Instructions
Heat the olive oil in an electric instant pot turned to saute mode.
Add the onion, garlic, celery, and carrots. Cook, stirring occasionally until vegetables are softened.
Pour in the vegetable broth, zucchini, and tomatoes. Using a wooden spoon, scrape up any browned bits from the bottom of the cooker.
Add the remaining ingredients and stir well to combine.
Close the pot and lock the lid. Set the machine to cook at high pressure. Set the timer to cook for 8 minutes.
Using the natural Release method, bring pressure to normal. Carefully unlock and open the lid.
Discard bay leaf. Stir well before serving.
Serve hot.