Air fryer prawn cracker recipe. This recipe is for a delicious and healthy air fried prawn crackers, which take just minutes to make.
What is the difference between an air fryer and a regular oven?
When it comes to the use of an air fryer, there are many things that it can do that a regular oven cannot. It can be used at a much lower temperature than traditional ovens and remove the need for preheating.
An air fryer also has a higher cooking capacity as they can reach up to 300 degrees Fahrenheit. Air fryers are also not just limited to food items, but they can be used for other purposes such as making candles or even pouring hot chocolate onto your favorite desserts.
How does an air fryer cook food?
Air fryers use a unique technology that allows them to cook food in air, without any oil. This technology is based on the concept of convection heating, using heated air to circulate around food.
An air fryer is an appliance that uses hot circulating air as its cooking medium. They function by forcing heated air into a cooking area and circulating it around the food being cooked, with the goal of cooking the item evenly and quickly while minimizing heat levels. The hot air cooks both from the top down and from the bottom up, and this combination of heating methods ensures even cooking throughout.
This type of cooking is different from other methods of frying in that it doesn't require any oil or fat to be used at all.
Does the prawn cracker taste the same as a deep fried one?
The taste of a prawn cracker is similar to that of a deep fried one. However, the feel and weight of the prawn cracker is different.
Air Fryer Prawn Cracker Recipe
You may also like:
Instant Pot Chicken Meatball Soup Recipe
Air Fryer Loaded Sweet Potatoes Recipe
Air Fryer Blueberry Cobbler Recipe
Instant Pot Apple Crisp Recipe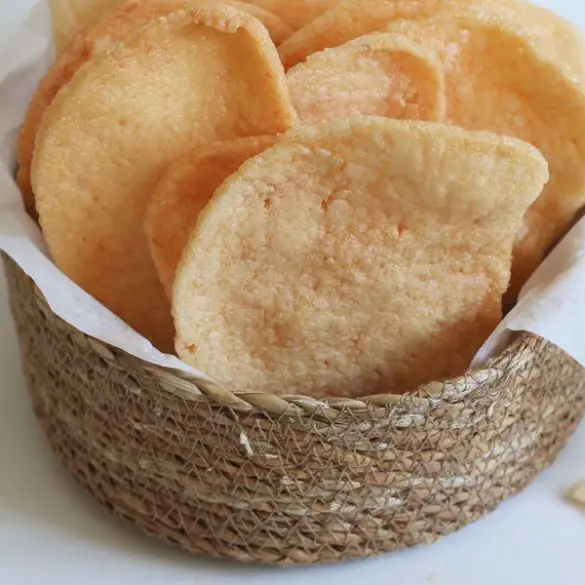 Ingredients
1/4 pound (120 g) Dried Prawn Crackers

1 tablespoon olive oil
Instructions
Preheat your air fryer to 400º F (200º C) for 5 minutes.
In a large mixing bowl, combine prawn crackers and olive oil. Toss until all crackers are coated thoroughly.
Working in batches, fry at 400º F (200º C) for 2-3 minutes, or until golden brown.
Repeat with the remaining crackers.
Serve warm.
Notes
preheat your air fryer to 400