Instant pot-baked eggplant caponata recipe. A simple and easy recipe, the baked eggplant caponata is a hearty dish that can be enjoyed as an appetizer or light lunch. It is the perfect accompaniment to the main course of pasta or rice.
The Importance of Choosing the Right Fried Eggplants
Choosing the right eggplant is an important step when cooking. It can make or break your dish. This section will provide you with information on how to choose the right eggplant for cooking and what to do with them once you have them.
The best way to choose an eggplant is by looking at its skin. You want skin that is not too dark, but also not too light, but rather somewhere in the middle. The skin should be free from bruises and cracks as well as any other imperfections that may be present on it. When picking out an eggplant, look for ones that are about six inches long and a couple of inches wide in size.
The Right Vegetables Combinations For an Instant Pot Baked Eggplant Caponata Recipe
This recipe is made with eggplant, bell pepper, onion, celery, garlic, red pepper flakes, and tomatoes. The vegetables are mixed together with a balsamic vinegar-based dressing and cooked in an Instant Pot.
The right combination of vegetables for cooking is the key to making this dish taste delicious.
Instant Pot-Baked Eggplant Caponata Recipe
You may also like:
Air Fryer Italian Focaccia Bread Recipe
Air Fryer Peanut Butter Cookies Recipe
Air Fryer Teriyaki Tempeh Recipe
Air Fryer Chestnuts: Delicious and Easy Holiday Treat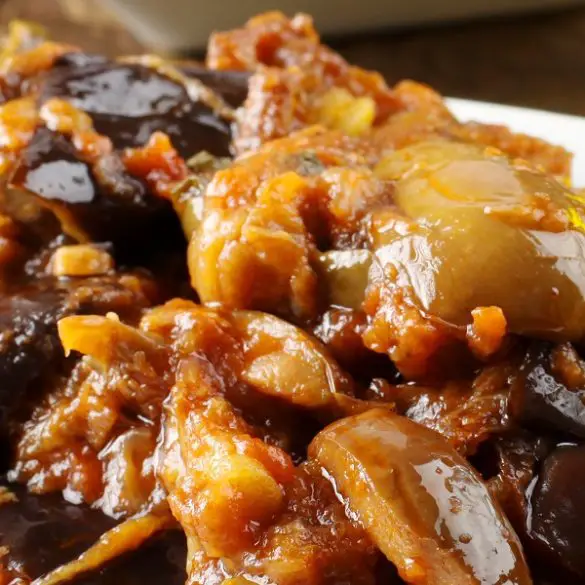 Ingredients
1 pound (480 g) eggplants, chopped

1/2 pound (240 g) tomatoes, chopped

1 cup green olives, pitted

1 celery stalk, chopped

2 tablespoons finely chopped garlic

3 tablespoons sugar

2 tablespoons tomato paste

2 tablespoons capers

2 tablespoons white wine vinegar

2 tablespoons olive oil

salt and freshly ground black pepper, to taste
Instructions
In a 6-quart (6 L) electric instant pot, combine all ingredients. Stir well.
Close the pot and lock the lid.
Set the machine to cook at high pressure. Set the timer to cook for 8 minutes.
Using the Quick Release method, bring pressure to normal.
Carefully unlock and open the lid. Season with salt and black pepper, to taste.
Stir well before serving.