Instant pot apple cake recipe. This apple cake recipe is really easy to make, and best of all, you don't have to spend time stirring it! This cake is just so moist – the moisture is locked in during baking and it'll stay that way for days. Most people enjoy apples all year long, but there's just something so comforting about them served with warm cinnamon. Something that just screams Fall.
What is the Best Type of Apple to Use?
The best type of apple to use for apple cake is the Granny Smith apple. This type of apple is tart and can be used as a replacement for lemons in certain recipes.
What the Reason to Bake a Cake in the Instant Pot?
There is one thing that sets the Instant Pot apart from other ovens: it keeps the inside of cakes or muffins super moist. I always feel disappointed when I put in all that effort only to get a cake that's dry.
How is it working?
Pressure cookers have been around for a while, and the Instant Pot is an evolution in technology that aims to make cooking easy. It uses steam to cook your food quickly and efficiently. The steaming process helps keep the food moist and evenly cooked.
Instant Pot Apple Cake Recipe
You may also like:
Slow Cooker Sweet Red Pepper Soup Recipe
Instant Pot Buttery Cauliflower Soup Recipe
Slow Cooker Easy Mexican Corn and Bean Soup
Air Fryer Baked Potatoes Recipe
Slow Cooker Brussels Sprouts Soup Recipe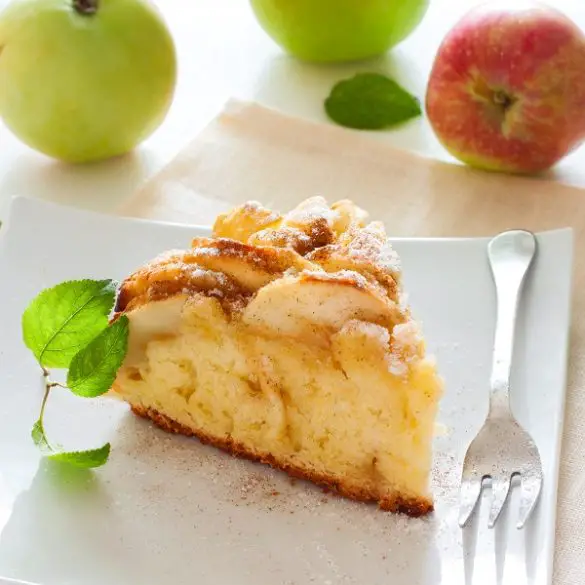 Ingredients
3 cups Grammy Smith apples, cored and diced

1/2 tablespoon ground cinnamon

1½ cups all-purpose flour

1/2 tablespoon baking powder

1/2 teaspoon kosher salt

1/2 cup (125 ml) canola oil

3/4 cup granulated sugar, plus 2 tablespoons

2 tablespoons orange juice

1 teaspoon vanilla extract

2 large eggs, beaten
Instructions
In a medium mixing bowl, combine diced apples, ground cinnamon, and 2 tablespoons of sugar. Mix well and set aside.
In a large mixing bowl, combine all-purpose flour, baking powder, and salt. Stir well.
In a separate mixing bowl, combine canola oil, orange juice, 3/4 cup of sugar, vanilla, and beaten egg. Whisk until well combined.
Gradually stir the dry mixture into the wet mixture until you have a smooth batter. Grease your springform pan with nonstick cooking spray. Place half of the batter into greased springform, then cover it with half of the apple mixture. Repeat with the rest of the butter and apple mixture.
Cover the springform with aluminum foil.
Pour 1 cup (250 ml) into an instant pot, then place a trivet inside. Place the springform on the trivet. Close the pot and lock the lid.
Set the machine to cook at high pressure. Set the timer to cook for 60 minutes.
Using the Natural Release method, bring pressure to normal. Carefully unlock and open the lid.
Take out the trivet and remove the foil from the pan. Allow the cake to cool completely, then dust with ground cinnamon. Enjoy!