Slow cooker Moroccan bean stew recipe. Looking for a delicious meal that cooks itself? This bean stew is a hearty and flavorful slow cooker recipe. Loubia is a traditional bean dish made with some very delicious spices.
What are the benefits of slow cookers?
Slow cookers have many benefits, some of which are outlined below.
Slow cookers are an excellent way to save time and energy, as they require very little attention from the user. They can be left unattended for hours at a time. Slow cookers also make it easy to create healthy meals in a short amount of time. They use less fat than other cooking methods and are an excellent way to prepare ingredients with low salt or sugar content. Slow cookers also promote healthy eating habits by eliminating the need for unhealthy convenience foods such as frozen dinners and microwavable snacks.
What are the benefits of cooking bean stew in a slow cooker?
Bean stew is a hearty and healthy dish that can be made in a slow cooker. A slow cooker is an appliance that cooks food at a low temperature for an extended period of time, which is perfect for this dish.
A slow cooker will cook the beans until they are tender and then it will simmer the stew, adding flavor to the sauce as it reduces. A slow cooker will also keep the Moroccan bean stew warm for hours after it has been cooked, which makes it perfect for cooking on days when you have more than one meal to make or if you need to leave your house during cooking time.
Slow Cooker Moroccan Bean Stew Recipe
You may also like:
Instant Pot Buttery Cauliflower Soup Recipe
Slow Cooker Easy Mexican Corn and Bean Soup
Air Fryer Baked Potatoes Recipe
Instant Pot Beet Hummus Recipe
Slow Cooker Brussels Sprouts Soup Recipe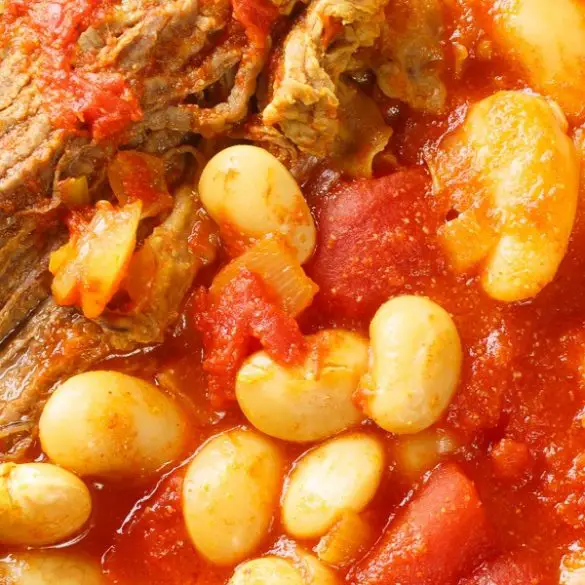 Ingredients
1 pound (480 g) dried cannellini beans, rinsed, drained, and soaked overnight

1 pound (480 g) boneless lamb shoulder

1/4 cup (60 ml) olive oil

1 large yellow onion, peeled and grated

3 medium tomatoes, grated

5 cloves garlic, peeled and crushed

2 teaspoons ground cumin

2 teaspoon ground ginger

1/4 teaspoon ground turmeric

1/8 teaspoon cayenne pepper

1 teaspoon smoked paprika

1/4 cup finely chopped fresh parsley

3½ cups (875 ml) water
Instructions
In a 6-quart (6 L) slow cooker, combine the lamb meat, grated onions, tomatoes, garlic, soaked beans, olive oil, salt, parsley, and spices. Stir well.
Pour in the water and mix again.
Cover the pot and cook in a low-heat setting for 5-6 hours.
Serve  Moroccan stew hot.