Slow cooker gherkin soup recipe. If you're looking for a recipe for a slow cooker soup with gherkins, this is it.
Why Make Gherkin Soup in the Slow Cooker and What are the Benefits?
Gherkin soup is a nutritious, delicious, and easy to make soup. The slow cooker can be used to make this soup because it is a great way of cooking the vegetables without them getting overcooked.
The benefits of using a slow cooker are that you can set it and forget it. You can also use the gherkin soup as a meal for lunch or dinner.
What are the Benefits of Cooking with a Slow Cooker
Slow cookers are a popular kitchen appliance that is used to cook food slowly over a long period of time.
In the past, slow cookers were used to cook large batches of food for families and gatherings. But now, they are also being used in households with just one or two people.
The benefits of cooking with a slow cooker include:
-Less energy consumption
-Less use of water and electricity (due to less frequent stirring)
-Better flavor retention
Slow Cooker Gherkin Soup Recipe
You may also like:
Slow Cooker Moroccan Bean Stew Recipe
Slow Cooker Sweet Red Pepper Soup Recipe
Instant Pot Buttery Cauliflower Soup Recipe
Slow Cooker Easy Mexican Corn and Bean Soup
Slow Cooker Brussels Sprouts Soup Recipe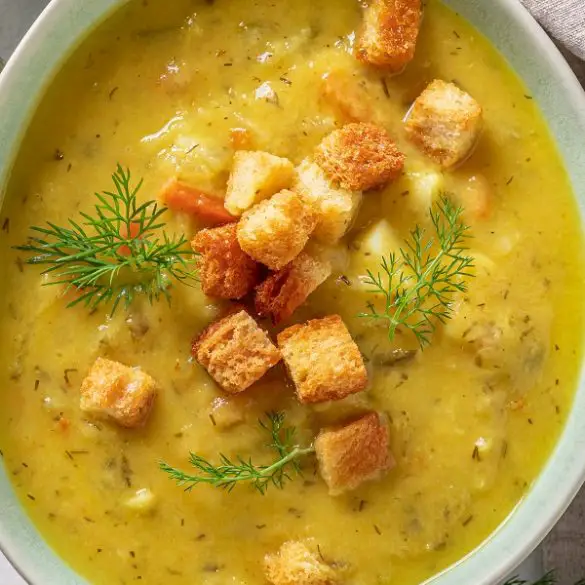 Ingredients
3 small potatoes, chopped

2 celery stalks, sliced

1 medium leek, sliced

1 large carrot, peeled and chopped

1 jar (34 oz (1 L)) gherkins, chopped, with brine reserved

4 cups (1 L) chicken stock

1/4 cup (60 ml) heavy cream
Instructions
In a 6-quart (6 L) slow cooker, combine potatoes, celery, leek, carrot, pickles, and chicken stock. Stir well
Cover the pot and cook on a low-heat setting for 6-8 hours, or until vegetables are soft.
Open the cooker. Using an immersion blender, puree the soup (something between smooth and chunky).
Stir in the heavy cream and reserved brine.
Serve with croutons. Enjoy!