Instant pot pumpkin puree soup recipe. The pumpkin puree soup recipe is a perfect fall dish. It's rich in flavor and nutrition, and ready in just 15 minutes.
What are some health benefits of pumpkin puree?
Pumpkin is a very nutritious vegetable that provides many health benefits. These include, but are not limited to, promoting healthy digestion, reducing inflammation, and improving heart health.
Pumpkin is also a good source of vitamin A and C, which are essential for maintaining healthy skin and eyesight.
Pumpkin puree contains potassium which helps maintain normal blood pressure levels. It also contains fiber which helps promote regular bowel movements.
Pumpkin puree is high in beta-carotene which can help reduce the risk of certain cancers.
What are some alternatives to pumpkin puree?
There are many alternatives to pumpkin puree. For example, you can use sweet potato, butternut squash, or even mashed potatoes.
What are the benefits of using an Instant pot to make soup?
If you don't have enough time to make soup, then an Instant pot is the best solution. It saves time and energy.
The benefits of using an Instant pot are:
-It saves time
-It saves energy
Instant Pot Pumpkin Puree Soup Recipe
You may also like:
Slow Cooker Sweet Red Pepper Soup Recipe
Instant Pot Buttery Cauliflower Soup Recipe
Slow Cooker Easy Mexican Corn and Bean Soup
Slow Cooker Brussels Sprouts Soup Recipe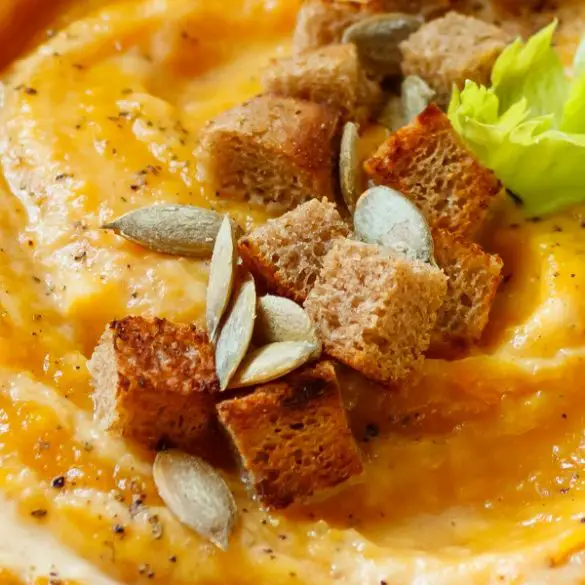 Ingredients
1 small yellow onion, peeled and chopped

2 tablespoons unsalted butter

29 oz (870 ml) vegetable broth

15 oz (450 ml) canned pumpkin puree

2 tablespoons brown sugar

1 cup (250 ml) heavy cream

croutons

toasted pumpkin seeds

1 tablespoon ground cinnamon

1/4 teaspoon ground ginger

1/2 teaspoon salt

1/4 teaspoon freshly ground black pepper

1/4 teaspoon Italian seasoning
Instructions
Melt the butter in an electric instant pot turned to saute mode.
Add chopped onion and cook, stirring occasionally, for 5 minutes, or until golden brown. You're currently sautéing. Press the "Cancel" button to stop.
Pour in the vegetable broth and pumpkin puree to the cooker and stir well to combine. Stir in brown sugar, ground cinnamon, ginger, salt, black pepper, and Italian seasoning. Mix well.
Close the pot and lock the lid. set the machine to cook at high pressure. Set the timer to cook for 5 minutes.
Using the natural Release method, bring pressure to normal. Carefully unlock and open the lid.
Stir in the heavy cream. Using an immersion blender, blend the soup until smooth.
Garnish with croutons and toasted pumpkin seeds. Enjoy!