Slow cooker spiced Indian chickpea soup. This soup may be a bit more labor-intensive, but it's worth the time. You can make it with ingredients you have in your pantry so it will be ready in a few hours.
The Basics of Slow Cooker Spiced Indian Chickpea Soup Recipe
This recipe is a perfect example of how to make a slow cooker soup. It is full of Indian flavors and spices. The soup is made with chickpeas, curry powder, onion, tomato, bacon and garlic paste, fresh coriander leaves, cumin seeds, and garam masala.
The ingredients are cooked in the slow cooker for 4 hours on low heat until they are soft and tender. This soup can be served with cooked bacon or some chopped fresh coriander leaves on top.
How to Store Leftover Soup for Maximum Enjoyment
We should store soup in a container that is airtight and can keep it fresh.
It is best to store soup in an airtight container like a mason jar or Tupperware. This will help keep the flavor of the soup intact for as long as possible.
Slow Cooker Spiced Indian Chickpea Soup
You may also like:
Instant Pot Vegetable Barley Soup Recipe
Slow Cooker Lemon Chicken Orzo Soup
instant Pot Pumpkin Puree Soup Recipe
Slow Cooker Gherkin Soup Recipe
Slow Cooker Moroccan Bean Stew Recipe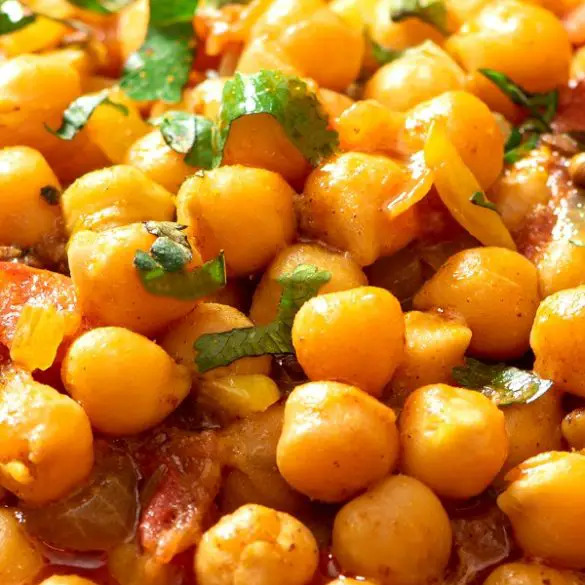 Ingredients
1 teaspoon extra virgin olive oil

1 medium yellow onion, peeled and diced

1 teaspoon sea salt

1 tablespoon curry powder

1 tablespoon grated ginger

3 cloves garlic, peeled and minced

1/4 teaspoon cayenne pepper

2 cups (500 ml) vegetable broth

2 14 oz (435 ml) each)) cans chickpeas drained and rinsed

2 14 oz (435 ml each)) cans diced tomatoes

14 oz (435 ml) can coconut milk

cooked and crumbled bacon, to serve (optional)
Instructions
Heat the olive oil in a large frying pan over medium-high heat.
Add onions and saute, stirring occasionally, until translucent, for about 5 minutes.
Stir in curry powder, ginger, garlic, and cayenne pepper.
Cook, stirring, for a further 1 minute.
Remove the onion mixture from the pan and transfer it to a slow cooker.
Add chickpeas, tomatoes, and vegetable broth.
Cover the pot and cook on a high-heat setting for 4 hours.
Turn off the cooker and open the lid.
Stir in the coconut milk. Ladle into soup bowls.
Garnish with crumbled bacon (optional) Serve hot.