Air fryer spinach and mushroom frittata . This spinach and mushroom frittata is a healthy, tasty meal for breakfast, lunch, or dinner. It's easy to make in bulk and reheat for the week.
This frittata will not just taste good but it is also healthy! The spinach leaves are rich in antioxidants that can help protect our cells against oxidative stress. The mushrooms contain glucaric acid that helps us break down toxic substances in our bodies without the need for enzymes or energy while remaining alkaline.
A frittata is a dish that can be cooked and served on its own, or as part of a larger meal. It's made with eggs and either chopped vegetables, mushrooms, or meats as the main ingredient.
What are some of the benefits of cooking spinach in an air fryer?
Cooking spinach in an air fryer is a healthy way to cook it. It is also a quick and easy way to cook spinach.
The air fryer cooks food without adding any oils or fats to it. This means that the food cooked in an air fryer is lower in calories and healthier for people who are on a diet.
Air fryers use less oil than other cooking methods like pan-frying, deep-frying, or oven baking. They also use less oil than microwaves or stovetop cooking methods because they don't have to heat the oil up before they start cooking with it.
Air fryers are great for people who have allergies because they only use air and not any oils or fats.
What is an air fryer frittata?
An air fryer frittata is a dish that is made by combining eggs, mushrooms, spinach, and other ingredients. Air fryers are a new cooking appliance that uses hot air to cook food.
How can you make an easy, healthy breakfast dish with an air fryer?
Air fryers are a great way to prepare your breakfast in a healthy way. They give you the opportunity to cook without using any oil. This is good news for people who want to eat healthier but still enjoy their favorite foods.
The best breakfast recipes with an air fryer are usually easy and quick to make and require little or no prep time. You can usually find them on the internet or in a cookbook.
Some of these recipes are pancakes, eggs, waffles, french toast, muffins, and more!
Air Fryer Spinach and Mushroom Frittata
You may also like:
Slow Cooker Spiced Indian Chickpea Soup
Instant Pot Vegetable Barley Soup Recipe
Slow Cooker Lemon Chicken Orzo Soup
Instant Pot Pumpkin Puree Soup Recipe
Slow Cooker Gherkin Soup Recipe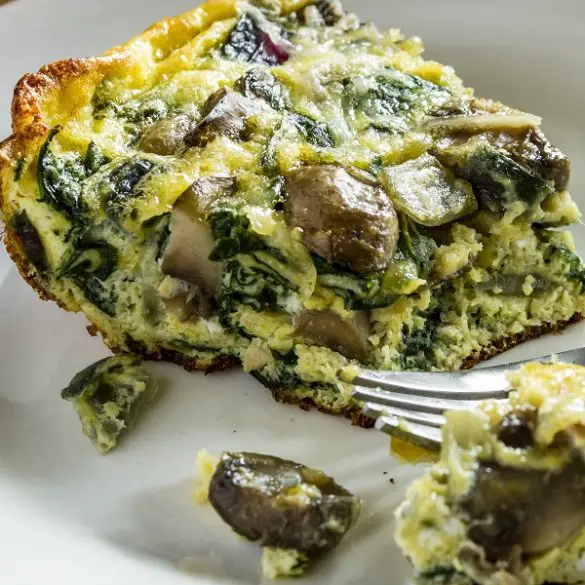 Ingredients
1 cup chopped mushrooms

2 cups chopped fresh spinach

4 eggs, lightly beaten

a handful of fresh parsley, chopped

salt and freshly ground black pepper, to taste
Instructions
Grease a baking pan with nonstick cooking spray. In a large mixing bowl, combine all ingredients. Mix well. Pour the mixture into greased baking pan  Place it in the air fryer. Bake at 350º F (175º C) for 8 minutes, or until eggs are set. Serve hot.