Slow cooker Italian bean soup recipe. A hearty soup for a cold winter day. With celery, white beans, carrots, and mustard this Italian bean soup is nutritious, delicious, and super easy to make.
Italian bean soup is a popular recipe that can be served as a main dish or side dish with bread and cheese.
A slow cooker is a kitchen appliance that cooks food slowly at a low temperature, which typically means it needs less attention than cooking on the stovetop.
What are the benefits of the slow cooker?
Slow cookers are great for people who want to eat healthier, save money, and have more time.
Slow cookers are one of the best inventions for people who want to eat healthier and save money. Slow cookers let you put all the ingredients in the pot before work and come home to a ready meal that's been cooked at a low temperature all day. They also make it possible for people with a busy schedule to enjoy home-cooked meals without having to spend hours in the kitchen.
Should I add any other spices to the soup, and if so, which ones?
Adding spices to the soup is a delicate balance. Some people like to add more of certain spices and others prefer less. The right blend of spices makes all the difference in the flavor of the soup.
A good rule to follow is to start with a small amount and then add more if needed. The same goes for adding spices to your soup. Start with just one or two, then add more if you want it spicier or more flavorful.
Slow Cooker Italian Bean Soup Recipe
You may also like:
Air Fryer Spinach and Mushroom Frittata
Slow Cooker Spiced Indian Chickpea Soup
Instant Pot Vegetable Barley Soup Recipe
Slow Cooker Lemon Chicken Orzo Soup
instant Pot Pumpkin Puree Soup Recipe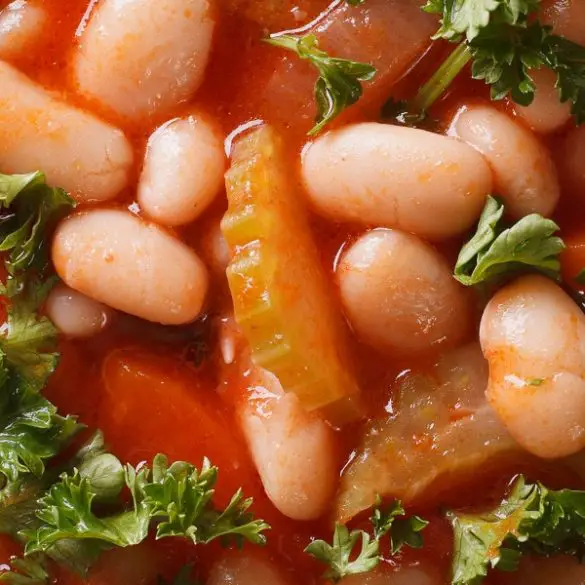 Ingredients
1½ quarts (1½ L) vegetable broth

4 cups (1 L) water

1 cup dried cannellini beans

1 cup chopped yellow onion

1 cup chopped carrots

1/2 cup chopped celery

2 cloves garlic, peeled and minced

1 teaspoon dried basil

1 teaspoon dried oregano

1/4 teaspoon dry mustard

8 oz (240 ml) tomato sauce

salt and freshly ground black pepper, to taste
Instructions
In a 6-quart (6 L) slow cooker, combine all ingredients, except tomato sauce and seasoning. Mix well. Cover the pot and cook on a low-heat setting for 7-8 hours, adding tomato during the last 20 minutes. Turn off the cooker and open the lid. Season the soup with salt and black pepper. Stir well before serving. Serve hot.