Instant pot chickpea and lemon soup. This is a healthy and hearty soup that is perfect for lunch or dinner. The chickpeas are a great source of protein and the lemon juice adds a nice tangy flavor.
This is a chickpea soup recipe that my mother used to make for me when I was young. It's a warming soup and perfect for this time of the year.
Some people might be surprised that I am including an instant pot chickpea soup recipe. It's because this is a restaurant-quality dish and it does not have to rely on hours of simmering to create intense flavors as other recipes would.
The last point I want to address is that this dish has no dairy in it at all, if you are vegan or vegetarian and you are looking for something delicious, healthy, and easy then this is the recipe for you!
How does chickpea and lemon soup taste?
The soup has a light and refreshing taste to it. The lemon flavor is very prominent, but the chickpea flavor is not overwhelming. The soup is not too sweet or salty. This soup would make for a great lunch on a hot day!
What makes chickpea and lemon soup different and appealing than other soups?
Chickpea and lemon soup is a great alternative to traditional chicken noodle soup. It is high in protein, low in fat, gluten-free and vegan. The main ingredients are chickpeas, potatoes, carrots, celery, onions, and garlic.
The first thing that makes this soup different than other soups is that it uses chickpeas as the main ingredient instead of chicken or beef broth. Chickpeas are high in protein which is important for vegetarians who want to maintain muscle mass and strength. Chickpeas also contain carbohydrates that provide energy for athletes or people who do strenuous activities during the day.
The second thing that makes this soup different from other soups is the use of lemon juice as a base ingredient instead of tomato sauce or paste. Lemon juice is acidic, and it will break up the solids in your soup. Use a few tablespoons at a time to see what happens. If you'd like to make this soup spicier, add more crushed red pepper flakes or cayenne pepper.
Instant Pot Chickpea and Lemon Soup
You may also like:
Instant Pot Cauliflower and Almond Soup
Slow Cooker Italian Bean Soup Recipe
Air Fryer Spinach and Mushroom Frittata
Slow Cooker Spiced Indian Chickpea Soup
Instant Pot Vegetable Barley Soup Recipe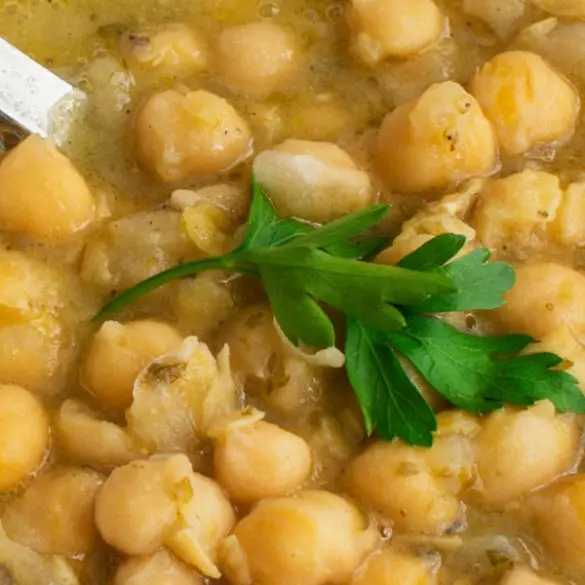 Ingredients
1½ cups dried chickpeas, soaked for 8-12 hours, drained

2 tablespoons olive oil

1 small yellow onion, peeled and chopped

1 tablespoon finely grated lemon zest

1/2 tablespoon dried thyme

1/2 tablespoon minced garlic

1/2 teaspoon ground turmeric

1/2 teaspoon salt

1/2 teaspoon freshly ground black pepper

8 cups (2 L) vegetable broth

2 tablespoons freshly squeezed lemon juice
Instructions
Heat the olive oil in an electric instant pot turned to the browning function. Add onion and cook, stirring occasionally, until softened, for about 2-3 minutes.
Add lemon zest, thyme, minced garlic, turmeric, salt, and black pepper. Continue cooking and stirring until aromatic, for a further 1 minute or less.
Pour in vegetable broth and drained chickpeas.
Close the pot and lock the lid. Set the machine to cook at high pressure. Set the timer to cook for 9 minutes.
Using the natural Release method, bring pressure to normal. Carefully unlock and open the lid.
Stir in lemon juice. Ladle the soup into soup bowls. Serve hot.