Slow cooker creamy carrot soup recipe. Tired of the same old soup recipes? Skip the cans and try a creamy carrot soup. It's not too spicy or sweet, but you can customize it to your liking.
What are the benefits of using a slow cooker?
Slow cookers are a great way to cook your food without having to worry about what is happening in the kitchen. It's a perfect option for those who work long hours and want to come home to a fully cooked meal. A slow cooker is also a great option if you want your food to be healthier without having to sacrifice flavor.
A slow cooker can be used for many different types of dishes, including soups, stews, and more. This means that you will always have something ready for dinner when you get home from work.
What can I add to my slow cooker creamy carrot soup recipe?
You can start with a variety of spices, such as salt and pepper. You can also add other vegetables like celery or onion for a little more flavor.
You can also add different types of beans for protein and fiber. You might want to try adding chickpeas or black beans for an extra protein boost.
Slow Cooker Creamy Carrot Soup Recipe
You may also like:
Air Fryer Keto Cheese Quiche Recipe
Instant Pot Cauliflower and Almond Soup
Slow Cooker Italian Bean Soup Recipe
Slow Cooker Spiced Indian Chickpea Soup
Slow Cooker Lemon Chicken Orzo Soup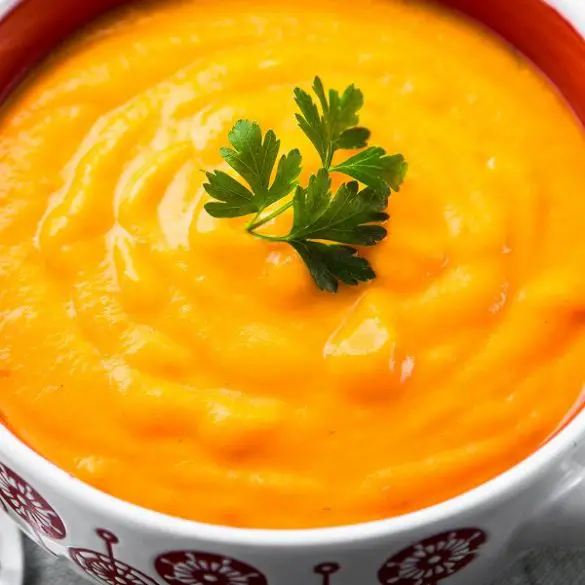 Ingredients
4 cups (1 L) reduced-sodium and fat-free chicken broth

4 cups sliced carrots

1/2 cup 9125 ml) frozen orange juice concentrate

1 teaspoon chopped ginger

1/2 teaspoon dried tarragon

1/2 teaspoon dried thyme

1½ cups (375 ml) 2% reduced-fat milk, divided

1 tablespoon cornstarch

salt and freshly ground black pepper, to taste
Instructions
In a 6-quart (6 L0 slow cooker, combine chicken broth, carrots, orange juice, ginger, and herbs.
Cover the pot and cook on a low-heat setting for 4-6 hours, adding 1 cup (250 ml)  milk during the last 30 minutes.
Switch the cooker to high. Cook for a further 10 minutes, then stir in combined remaining 1/2cup (125 ml) milk and cornstarch, stirring for 2-3 minutes.
Process the soup in a food processor until smooth. Season with salt and black pepper. Serve hot.