Slow cooker beef and barley soup recipe. This soup is a complete meal in one pot. The beef, barley, and carrots make it nutritious and filling.
What are the benefits of cooking beef and barley soup in a slow cooker?
The benefits of cooking beef and barley soup in a slow cooker are plenty.
The first benefit is that you don't need to worry about the timing or the temperature of the ingredients. You can just set it on low heat for 8 hours, walk away, and come back to a perfect meal!
The second benefit is that you can use this recipe as your base for different variations. You can add any vegetables or herbs you want to make it more flavorful! The third benefit is that it's easy to clean up. There is no measuring, stirring, or anything else that would make cleanup difficult.
What are some other types of soups you can make with a slow cooker?
There are many types of soups that you can make with a slow cooker. But, the most popular ones are chicken soup, beef stew, and chili.
Slow Cooker Beef and Barley Soup Recipe
You may also like:
Instant Pot Creamy Tuscan Mushroom Soup
Slow Cooker Creamy Carrot Soup Recipe
Air Fryer Keto Cheese Quiche Recipe
Instant Pot Chickpea and Lemon Soup
Instant Pot Cauliflower and Almond Soup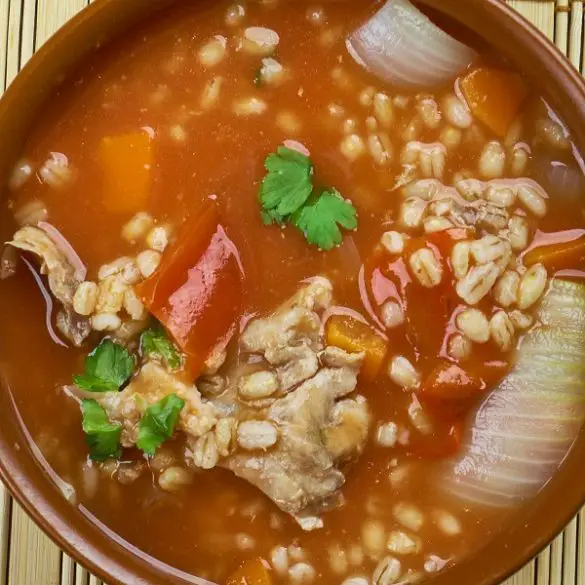 Ingredients
1 pound (480 g) beef stewing meat, cubed

1 small yellow onion, peeled and sliced

2 teaspoons minced garlic

1 teaspoon salt

1 teaspoon Italian seasoning

1/4 teaspoon freshly ground black pepper

3 large carrots, peeled and sliced

1/2 cup pearl barley, rinsed

1 red bell pepper, cored and sliced

2 tablespoons tomato paste

2 bay leaves

4 cups (1 L) low-sodium beef broth

chopped fresh parsley, for serving
Instructions
In a 6-quart (6 L) slow cooker, combine all ingredients, except parsley. Stir well.
Cover the pot and cook on a low-heat setting for 6 hours, or until vegetables and barley are tender.
Turn off the cooker and open the lid.
Stir the soup well before serving. Ladle into soup bowls.
Garnish with chopped fresh parsley. Serve hot.