Instant pot stuffed tomatoes recipe. Stuffed tomatoes recipe that's perfect for a comforting, hearty, and delicious meal. Read our recipe and get ready to make these easy-to-prepare tomatoes this weekend.
What are some of the benefits of having an instant pot in your kitchen?
Instant Pots are a great way to have a quick and easy meal. They are also great for cooking with friends and family.
Instant Pots: What Are Some of the Benefits of Having an Instant Pot in Your Kitchen?
– Quick, easy meal –
– Cooking with friends & family –
– Great for cooking with kids –
– Easy to clean up
What is the difference between a pressure cooker and a slow cooker?
The pressure cooker is a type of pot used to cook food quickly over high heat. It is made of an inner pot and a lid with a valve in the center to regulate the amount of pressure inside.
The slow cooker is a type of pot used to cook food slowly at low temperatures, typically between 200 and 240 degrees Fahrenheit. It uses moist heat, which means it can take hours or even days for the food to cook, depending on what you are cooking.
Instant Pot Stuffed Tomatoes Recipe
You may also like:
Slow Cooker Beef and Barley Soup Recipe
Instant Pot Creamy Tuscan Mushroom Soup
Slow Cooker Creamy Carrot Soup Recipe
Air Fryer Keto Cheese Quiche Recipe
Instant Pot Chickpea and Lemon Soup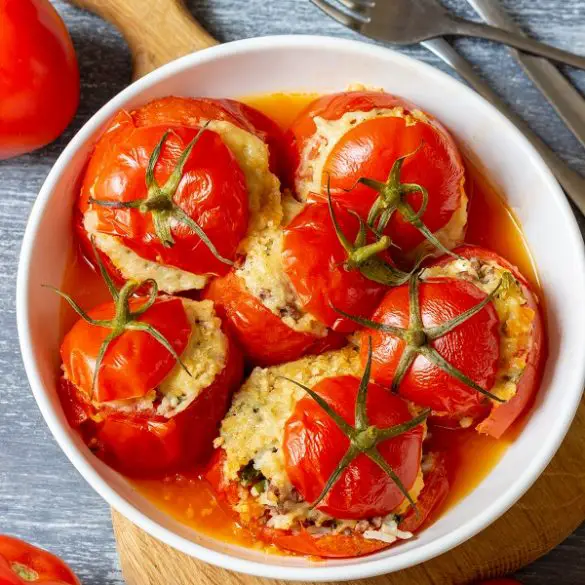 Ingredients
8 large tomatoes

For the Ground Beef:

7 oz (210 g) ground beef

1 tablespoon sunflower oil

1/2 teaspoon salt

pinch of freshly ground black pepper

3 teaspoons dried oregano

1/2 teaspoon garlic powder

To Make a Filling:|

1/4 cup cooked rice

3 oz (90 g) feta cheese

1/4 cup chopped fresh parsley

For the Topping:

1 oz (30 g) grated Cheddar cheese

3 tablespoons breadcrumbs
Instructions
Cut the top off of each tomato and save them for later.
Using a spoon, scoop out the pulp and seeds of your tomatoes and place them in a food processor. Process, then pour the mixture into an electric instant pot.
Heat the sunflower oil in a large nonstick skillet over medium-high heat. Add ground beef, salt, black pepper, and garlic powder. Cook, stirring occasionally until beef is browned.
Remove cooked beef mixture from the skillet and transfer to a mixing bowl. Stir in crumbled feta, cooked rice, and chopped fresh parsley. Mix until well combined.
Ina small mixing bowl, combine the breadcrumbs and grated Cheddar cheese. Mix well and set aside.
Fill each tomato with the ground beef mixture, then top with the breadcrumb topping. Place the tops back on the tomatoes. Transfer stuffed tomatoes to the instant pot.
Close the pot and lock the lid.
Set the machine to cook at high pressure. Set the timer to cook for 2 minutes.
Using the Quick Release method, bring pressure to normal. Carefully unlock and open the lid.
Using a slotted spoon, remove stuffed tomatoes from the cooker and transfer them to a serving plate. Serve hot.