Slow cooker ham and cannellini bean soup. This easy ham and cannellini bean soup recipe is rich, satisfying, and so delicious! It's perfect for a winter recipe.
What are some additional ingredients that can be used to enhance the flavor of ham and bean soup
Ham and bean soup is a hearty, nutrient-dense meal that can be made in a variety of ways. It is traditionally made with ham hocks and dried beans, but it can also be made with other ingredients such as bacon or sausage.
Additional ingredients:
– onion
– garlic
– celery
– carrots
– potatoes
– chicken broth
What is the best way to this soup after it has been made?
The best way to store ham and bean soup after it has been made is in the refrigerator. It should be stored in an airtight container for up to 2-3 days.
What other kinds of recipes can be made with a slow cooker?
A slow cooker is a versatile kitchen appliance that can be used for cooking a variety of different recipes.
Slow Cooker Recipes: How to Make Pesto Chicken and Rice Pesto is a popular sauce with many variations. It goes well with chicken and rice, which are staples in the slow cooker recipe list. This dish can also be served over pasta or on bread as an appetizer or side dish.
Slow Cooker Ham and Cannellini Bean Soup
You may also like:
Instant Pot Sweet Potato Curry Recipe
Instant Pot Stuffed Tomatoes Recipe
Slow Cooker Beef and Barley Soup Recipe
Instant Pot Creamy Tuscan Mushroom Soup
Slow Cooker Creamy Carrot Soup Recipe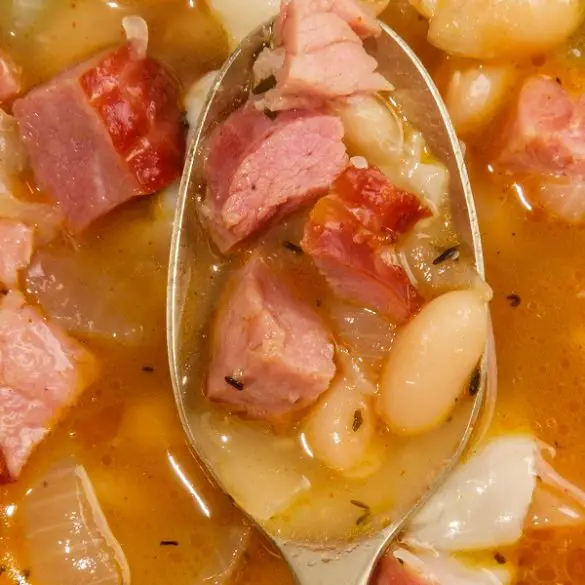 Ingredients
1 pound (480 g) Cannellini beans, rinsed and drained

1 large smoked ham bone or ham rock

4 cloves garlic, peeled and minced

1 large yellow onion, peeled and chopped

7 cups (1.75 L) low-sodium chicken broth

2 bay leaves

1 tablespoon dried parsley

1/2 teaspoon celery salt

1/2 teaspoon dry mustard powder

dash of freshly ground black pepper

dash of Tabasco sauce

1-2 cups diced ham (optional)
Instructions
Place drained beans in the bottom of the 7-8-quart (7-8 L) slow cooker.
Nestle the ham bone or rock in the center. Top with onions and minced garlic.
Pour the chicken broth over the ingredients, then sprinkle with bay leaves, parsley, celery salt, mustard powder, black pepper, and Tabasco sauce.
Cover the pot and cook on a low-heat setting for 7-9 hours, or until beans are tender.
Open the cooker. Using tongs, remove cooked ham bone from the slow cooker and transfer it to a cutting board. Pull any ham meat from the bone, shred it and stir into the soup along with cubed ham (if used). Allow it to cook for a further 2-3 minutes until just heated through.
Discard bay leaves.
Ladle the soup into soup bowls. Serve hot.