Slow cooker Mexican chili recipe. If you love Mexican food and are looking for a hearty dinner recipe, this chili is so good you'll enjoy it year-round.
What are the health benefits of a Mexican chili?
The slow cooker Mexican chili is a dish that is perfect for those who want a home-cooked meal but don't have the time to cook.
It can be prepared in less than 10 minutes with just a few ingredients, and it will be ready in 4 hours.
The Mexican chili will fill you up with the right amount of protein, fiber, and healthy fats. It also contains plenty of vitamins and minerals such as vitamin A, B6, C, K, magnesium, and iron. The dish is easy to digest so it is perfect for people who are on a diet or have digestive issues.
What other dishes can be served with slow cooker Mexican chili?
Mexican chili is a dish that has been around for decades. It is often served with tortillas, rice, and beans. The chili can be served with other dishes as well.
What spices do you recommend adding to this dish?
If you want to make your chili spicier, add some cayenne pepper or red pepper flakes. If you want a sweeter flavor, consider adding cinnamon and sugar.
Slow Cooker Mexican Chili Recipe
You may also like:
Slow Cooker Beef and Barley Soup Recipe
Instant Pot Creamy Tuscan Mushroom Soup
Slow Cooker Creamy Carrot Soup Recipe
Air Fryer Keto Cheese Quiche Recipe
Instant Pot Chickpea and Lemon Soup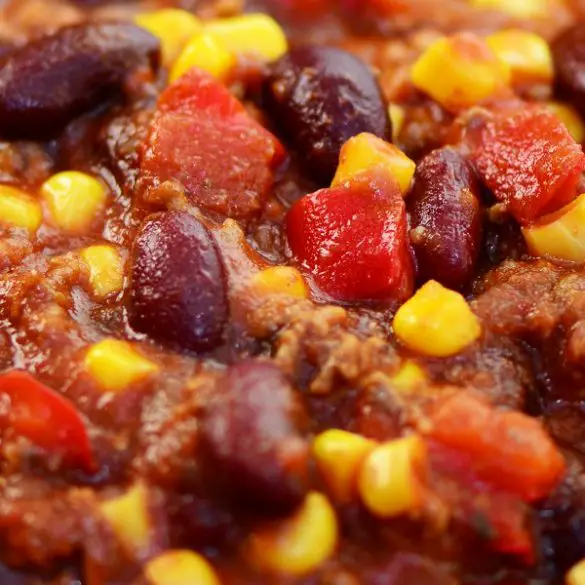 Ingredients
1/2 pound (480 g) ground beef

3¾ cups (930 ml) low-sodium fat-free beef both

16 oz (480 ml) mild low-sodium medium salsa

15 oz (450 ml) can kidney beans, rinsed and drained

2 cups chopped yellow onions

1/2 cup chopped red bell pepper

1½ cups whole kernel corn

1 teaspoon chili powder

salt and freshly ground black pepper, to taste
Instructions
Grease a large nonstick skillet with nonstick cooking spray.
Add the ground beef and cook, stirring occasionally and crumbling with a fork, until browned, for about 5 minutes. Transfer browned beef to a slow cooker.
Add beef broth, salsa, red bell pepper, beans, onions, corn, and chili powder.
Cover the pot and cook on a low heat setting for 6-8 hours.
Turn off the cooker and open the lid.
Season to taste with salt and black pepper. Stir well. Serve hot.