Air fryer fried yellow rice recipe. Learn how to make delicious fried yellow rice with your air fryer in less than 30 minutes. This recipe uses ingredients such as cashews and coconut aminos.
What are the Advantages of Air Frying with an Air Fryer
Air frying has become a popular technique in the kitchen. It is a healthy and tasty alternative to deep frying. Air fryers are also safer than traditional fryers because they don't require oil or fat to cook with, and they are also easy to clean.
Air fried chicken recipe is one of the best ways to make fried chicken that is healthy and crispy at the same time. It's an easy way to make this dish in your air fryer without any oil or fat. You can also use this recipe as an appetizer with some vegetables on the side.
Air frying has many advantages over deep-frying, including healthier food, less mess, and easier cleanup.
Steps for Making the Best Low-Salt Fried Rice at Home with an Air Fryer
This air-fried rice recipe is a healthier alternative to traditional fried rice. The key is to use less salt in the cooking process and to ensure that the rice is dry before you add it to the pan.
This low-salt fried rice recipe can be made at home with an air fryer. It will take less time than traditional methods and you don't need any special ingredients like soy sauce or oyster sauce.
This low-salt fried rice recipe can be made ahead of time and then stored in the fridge for up to 4 days or frozen for up to 3 months.
What Is The Difference Between Traditional And Air Fried Rice?
Air fried rice is a new way of cooking rice that uses a pressure cooker and air fryer. The process of cooking the rice is more like frying, which makes it taste more crispy and crunchy.
Traditional Rice vs Air Fried Rice:
Traditional Rice: Traditional rice is cooked with very high heat, so it can be done in a pot or in the oven. It's cooked on the stovetop or in an oven for about 20 minutes.
Air Fried Rice: Air fried rice is cooked with high pressure and high heat, so it can be done in a pressure cooker or an air fryer for about 8 to 10 minutes. It's cooked on the stovetop for about 10 minutes.
Air Fryer Fried Yellow Rice Recipe
You may also like:
Slow Cooker Texas Hot Chili Recipe
Easy Air Fryer Cauliflower Bites Recipe
Slow Cooker Chickpea and Pasta Soup Recipe
Instant Pot Split Pea Soup with Turkey
Slow Cooker Mushroom Chickpea Soup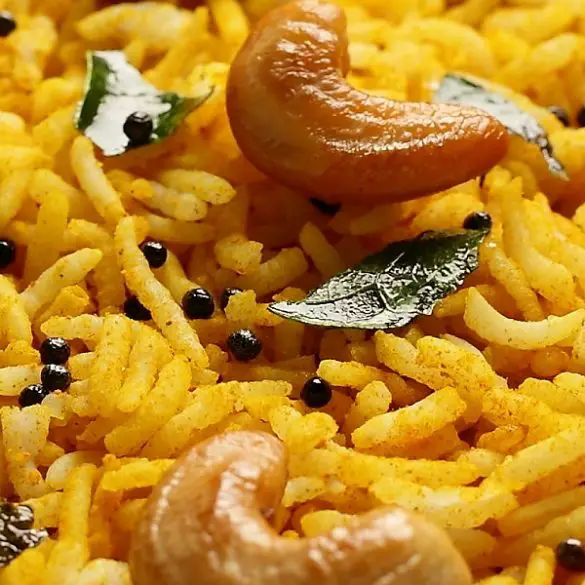 Ingredients
3 cups cooked and colled yellow rice

1/3 cup (80 ml) coconut aminos

1 tablespoon cooking oil

1/2 cup cashews

dash of peppercorns
Instructions
In a large mixing bowl, combine cooked yellow rice, coconut aminos, and cooking oil. Mix well. Transfer the rice mixture to an oven-safe container. Sprinkle with cashews and black peppercorns. Place in the air fryer basket. Fry at 360º F (180º C) for 15 minutes, stirring 3 times through the cooking time. Remove fried rice with cashews from the fryer and transfer it to a serving plate. Serve hot.