Air fryer crispy baby corn recipe. Fried crisp and spicy baby corn, coated with sriracha, ketchup and Panko breadcrumbs is the perfect quick and healthy snack in your air fryer.
How about some spicy and crispy corn? It sounds delicious! I'm going to share my newest cooking hack with you today. I used my air fryer to make these crispy baby corns – it's the perfect side dish for just about any meal!
The crispy baby corn recipe I have below is simple. It's a little like Indian-Chinese or Manchurian baby corn. But I don't add soy sauce, for example, but you can if you want to!
What are the benefits of cooking with air fryer?
Air fryers are the latest trend in cooking. They are convenient and easy to use.
Air fryers are a healthier alternative to deep frying food because they use 80% less oil than traditional frying. Air fryers also cook food faster and more evenly than other methods of cooking, such as pan frying or oven roasting.
How does an air fryer cook food?
An air fryer cooks food by circulating hot air around the food. The hot air circulates around the food, cooking it evenly.
An air fryer uses less oil than a deep fryer and the oil is not heated to high temperatures. This helps keep the fat from absorbing into the food.
What should I do to the baby corn before cooking it?
Soaking baby corn in water for about 15 minutes (if you use fresh baby corn) before cooking it will help to reduce the amount of sugar that is released.
The most important thing you should do with baby corn before cooking it is to soak it in water for about 15 minutes. This will help to reduce the amount of sugar that is released, as well as making them softer when you cook them.
Air Fryer Crispy Baby Corn Recipe
You may also like:
Instant Pot Tuscan Tomato Chickpea Soup Recipe
Slow Cooker Red Lentil and Vegetable Soup
Instant Pot Hakka Noodles Recipe
Instant Pot Rosemary No Knead bread
Instant Pot Sweet and Spicy Cauliflower Head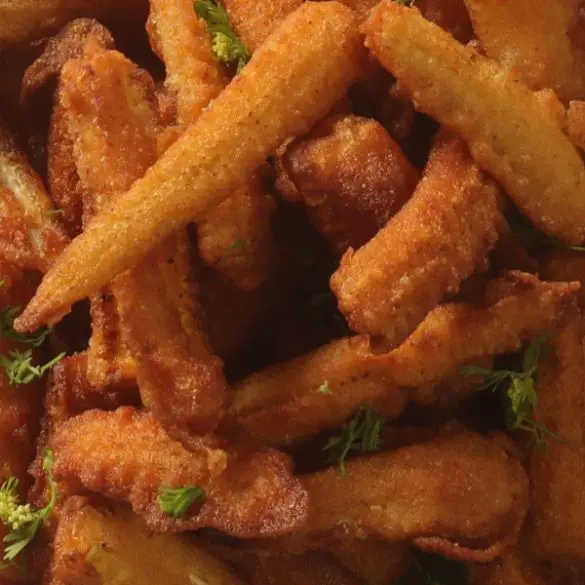 Ingredients
20 canned baby corns, rinsed and drained

4 tablespoons ketchup

2 tablespoons sriracha sauce

2 teaspoons cooking oil

1/4 teaspoon salt

1 teaspoon ginger-garlic paste

2/3 cup Panko breadcrumbs
Instructions
In a medium mixing bowl, combine the ketchup, sriracha sauce, oil, salt, and ginger-garlic paste. Mix well and set aside.
Line the air fryer basket with aluminum foil and then spread the breadcrumbs on a plate.
Now take baby corn and dip it in the sauce. Be sure to make sure the sauce is evenly coated on the baby corn, then roll it over panko breadcrumbs.
Place coated corn in the air fryer basket. Next, coat the other baby corns with sauce, and then with breadcrumbs.
Working in batches, fry at 350º F (175º C) for 10 minutes. Repeat with the remaining corn.
Serve hot with your favorite dip.