Instant pot hakka noodles recipe. This is a quick and easy recipe for instant pot hakka noodles. It combines the flavors of Bangkok with noodles and vegetables.
What is a Hakka Noodle?
Hakka noodles are a type of egg noodle that is popular in Asian cuisine.
Hakka noodles have a chewy texture and are made from wheat flour, salt, eggs, and water. They can be served in soup or stir-fried with vegetables or meat.
These noodles are often served with a sauce made of soy sauce, sesame oil, rice vinegar, garlic, and chili peppers.
An Alternative Way of Cooking Instant Pot-Hakka Noodles | Pressure Cooker vs. Sautéing Method
The pressure cooker is a great kitchen appliance for busy professionals. It's a convenient and quick way to cook your food. The Instant Pot has been getting more popular recently because it is one of the most versatile pressure cooking brands.
The Instant Pot has two ways of cooking noodles, the sautéing method and the pressure cooker method. The sautéing method involves boiling water in a pot, then adding noodles to the boiling water and cooking them for 5 minutes or until they are cooked through. The pressure cooker is similar to this but it cooks them in 2-3 minutes instead of 5-7 minutes.
Both methods are great but there are some differences between them that you should consider before deciding which one you want to use for your recipe.
Instant Pot Hakka Noodles Recipe
You may also like:
Instant Pot Rosemary No Knead Bread
Slow Cooker Sweet Potato Lentil Curry Recipe
Air Fryer Potato Paratha Recipe
Instant Pot Sweet and Spicy Cauliflower Head
Slow Cooker Chicken Taco Soup Recipe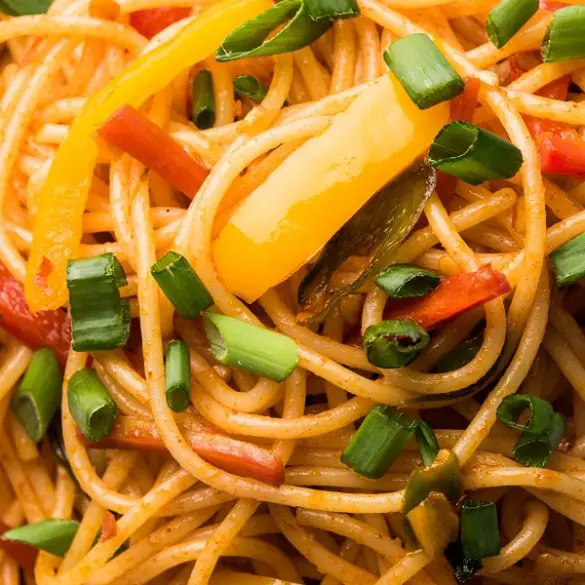 Ingredients
Chings hakka noodles (2 single packs)

1 teaspoon sesame oil

1 tablespoon cooking oil

3 cloves garlic, peeled and minced

1/2 inch ginger, minced

2 Thai green chilies, finely chopped

1 cup julienned carrots

1 cup red and yellow bell peppers, diced

1 teaspoon sugar

chopped green onions, to serve

1 teaspoon freshly ground black pepper

pinch of salt

For the Sauce:

3 tablespoons soy sauce

1 tablespoon rice vinegar

1 teaspoon sriracha sauce

1 teaspoon chili oil
Instructions
In a small mixing bowl, combine all sauce ingredients. Whisk well, then pour the sauce into the cooker.
Spread hakka noodles on the bottom of the pot, then add the remaining ingredients, except green onions. Add 2 cups (500 ml) of water.
Close the pot and lock the lid. Set the machine to cook at high pressure. Set the timer to cook for 5 minutes.
Using the Quick Release method, bring pressure to normal. Carefully unlock and open the lid.
Using a pair of tongs, stir the noodles. remove the noodles from the instant pot and transfer them to a serving plate.
Sprinkle with chopped green onions and serve immediately.