Slow cooker sweet potato lentil curry recipe. This delicious and healthy recipe is incredibly easy to make using a slow cooker. Just dump and go, set it and forget it; the only steps are to chop vegetables and add ingredients to a slow cooker. This recipe has a delicious curry sauce with rich, creamy flavors.
Is This Recipe Vegan?
Sweet potato lentil curry recipes are usually vegan but might include ghee or dairy milk. Tasty, creamy, and satisfying curries can be achieved with canned coconut milk, making it perfect for those who avoid dairy.
I like the combo of sweet potatoes and lentils since they're packed with nutrition. You'll get plenty of fiber and complex carbs from both, there are a lot of benefits to eating this. By eating lentils and sweet potatoes, you'll get all the protein, minerals, and other nutrients your body needs.
Slow Cooker Sweet Potato Lentil Curry Recipe
You may also like:
Instant Pot Sweet and Spicy Cauliflower Head
Air Fryer Potato Paratha Recipe
Instant Pot Chicken Risotto Recipe
Slow Cooker Chicken Taco Soup Recipe
Air Fryer Chocolate Chip Muffins recipe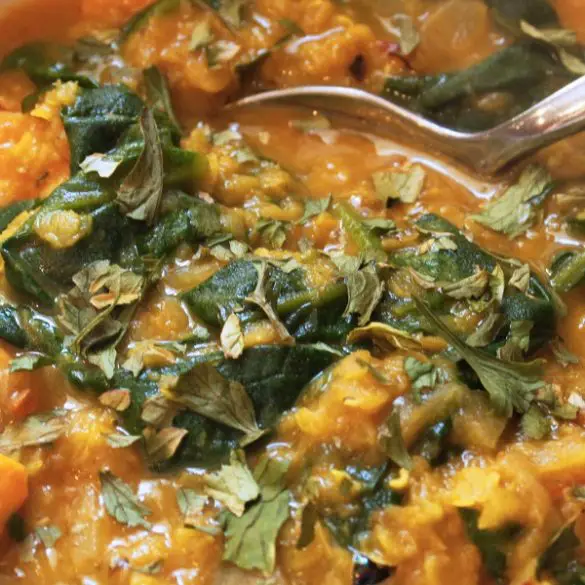 Ingredients
3 cups cubed sweet potatoes

1 cup dry lentils

1 cup chopped yellow onion

1 tablespoon minced fresh ginger

3-5 cloves garlic, peeled and minced

28 oz (840 ml) can diced and crushed tomatoes

3 cups (750 ml) vegetable broth

3 tablespoons curry powder

1/2 tablespoon sugar

1¾ cup (430 ml) can of coconut milk

salt, to taste

1/2 cup chopped fresh spinach

freshly squeezed lemon juice, to serve (optional)
Instructions
In a 6-quart (6 L0 slow cooker, combine all ingredients, except coconut milk and spinach. Stir well.
Cover the pot and cook on a high-heat setting for 4 hours, adding the spinach during the last 30 minutes of cooking time.
Once the curry is cooked and spinach is wilted, stir in the coconut milk.
Sprinkle with lime juice (optional)
Serve hot.