Slow cooker red lentil and vegetable soup. Stay warm and cozy this season with this healthy slow cooker lentil soup. It's one of those easy set-and-forget recipes that make great lunches to take throughout the week!
I love cooking soup in the winter because it's so cozy and fills you up for hours. This lentil and vegetable soup is packed full of veggies and is super satisfying.
The red lentils make the soup's texture nice and thick. It stays that way without any need for a blender. Red lentils cook down and become soft for a thick, textured soup. You could also use other lentils, but you'll need to adjust the cooking time.
Great as a Starter or Main Dish in Your Crock-Pot!
Lentils are a great vegetable to cook in your crock pot, and they can be used as either a starter or main dish.
Lentils are one of the most popular vegetables for cooking in a crock pot because they can be used as either a starter or main dish. They are also high in fiber, protein, and carbs, making them an excellent choice for vegetarians who want to maintain their diet while still getting the nutrients they need.
Slow Cooker Red Lentil and Vegetable Soup
You may also like:
Instant Pot Hakka Noodles Recipe
Air Fryer Potato Paratha Recipe
Slow Cooker Chicken Taco Soup Recipe
Instant Pot Chicken Risotto Recipe
Air Fryer Chocolate Chip Muffins Recipe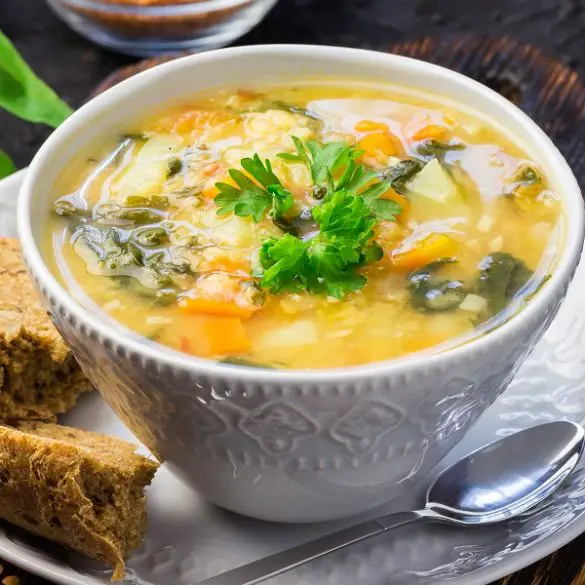 Ingredients
1½ cups red lentil

4 carrots, peeled and chopped

2 celery stalks

1/2 bunch of kale, stems removed and chopped

2 potatoes, peeled and chopped

2 cloves garlic, peeled and minced

1/2 of yellow onion, peeled and chopped

1 teaspoon salt

1 teaspoon chopped fresh parsley

1/2 teaspoon paprika

1/2 teaspoon dried oregano

1/2 teaspoon garlic salt

1/4 teaspoon cayenne pepper

6½ cups (1625 ml) vegetable stock
Instructions
In a large slow cooker, combine all ingredients. Mix well.
Cover the pot and cook on a low-heat setting for 8 hours.
Turn off the cooker and open the lid. Ladle the soup into soup bowls.
Serve hot with crusty bread.