Slow cooker beef biryani recipe. This beef biryani recipe is slow-cooked to perfection. The long cooking time means the beef is tender and the spices have been infused into the rice for a delicious meal.
The Benefits of Using a Slow Cooker
A slow cooker is a type of electric appliance that cooks food by heating it at a low temperature. It is also known as a Crock-Pot. Slow cookers can be used to cook anything from soups and stews to casseroles and desserts.
The benefits of using a slow cooker are numerous, but the most important one is the fact that it allows you to save money on your electric bill. The food is cooked at lower temperatures for longer periods of time, which means that it will take up less energy than if you were cooking on the stove or oven.
What is a Biryani?
Biryani is a dish from the Indian subcontinent, which is made by cooking rice and meat or vegetables together. The word "biryani" comes from the Persian language, meaning "fried" or "roasted".
There are many variations of biryani across India and Pakistan.
The dish is popular in many parts of Asia as well as around the world. It has become a favorite among people with South Asian origins living abroad.
What are the Ingredients for Beef Biryani?
The ingredients for beef biryani are not very different from the ingredients for chicken or lamb biryani. The main difference is that you will use some spices and vegetables that are more commonly used in Indian cuisine.
Different regions in India have different versions of beef biryani, but generally, there is a mixture of onions, garlic, ginger, cumin seeds, and coriander seeds as the base of the dish. The most common spices added to this are turmeric, chili powder, garam masala, and ground black pepper.
Slow Cooker Beef Biryani Recipe
You may also like:
Instant Pot Savory Shepherd's Pie Recipe
Slow Cooker Indian Rice Pudding Recipe
Slow Cooker Stuffed Onions Recipe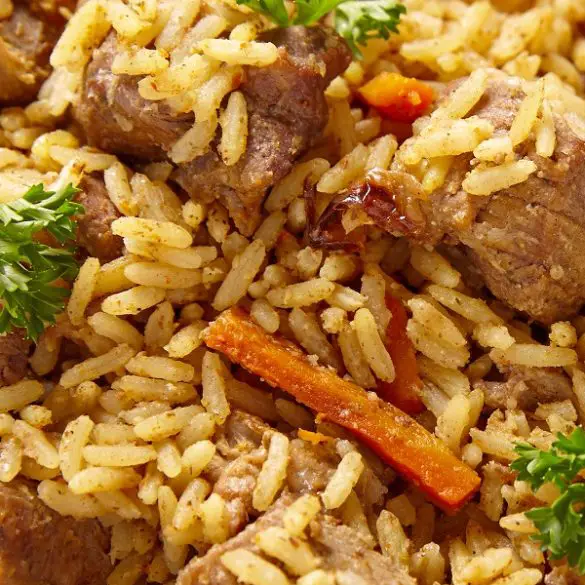 Ingredients
1 bunch of fresh coriander leaves

1/2 cup (125 ml) natural yogurt

1 teaspoon ground turmeric

1 teaspoon garam masala

1 teaspoon ground coriander

1 teaspoon chili powder

1 ginger piece, grated

4 garlic cloves, peeled and minced

2 pounds (960 g) stewing beef, cubed

1/2 cup julienned carrots

1 tablespoon olive oil

2 cups basmati rice, rinsed and drained

4 yellow onions, peeled and sliced

3 cups (750 ml) beef stock

2 cinnamon quills
Instructions
In a mixing bowl, combine coriander leaves, yogurt, spices, ginger, and garlic. Mix well.
Coat cubed beef well with yogurt mixture, then place them in a slow cooker, reserving the yogurt mixture.
Place basmati rice over the beef in the cooker.
In a frying pan, heat the olive oil over medium heat. Add onions and carrots and cook, stirring occasionally, for 5-8 minutes.
Remove fried onions and carrots from the frying pan and transfer to the slow cooker.
Pour in beef stock, and pop in cinnamon quills.
Cover the pot and cook in a high-heat setting for 4 hours.