Fried chicken-pumpkin patties recipe. Skillet-fried ground chicken and pumpkin patties, very easy and delicious low-carb recipe! You may also like Low-Carb Turkey Meatball Soup, another tasty and healthy recipe.
To make this recipe, I used garam masala spices.
Fried Chicken-Pumpkin Patties Recipe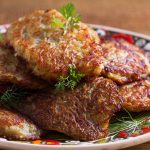 Ingredients
1 pound (480 g) fresh pumpkin, peeled, seeded, and coarsely grated

6 shallots, finely chopped

4 tablespoons (60 ml) olive oil

3 teaspoons (15 ml) garam masala

1 pound (480 g) ground chicken

3 cups wholemeal breadcrumbs

2 large eggs, beaten

1 cup chopped fresh parsley

3-4 tablespoons all-purpose flour

salt and freshly ground black pepper, to taste
Instructions
In a large nonstick skillet, heat 1 tablespoon olive oil. Add chopped shallots and fry, stirring occasionally, until translucent.
Add the garam masala and continue cooking and stirring, for a further 2 minutes. Remove spicy mixture from the heat, set aside and allow to cool.
Add ground chicken, breadcrumbs, parsley, beaten eggs, 2 tablespoons all-purpose flour and cooled shallots to the pumpkin. Mix well. Season to taste with salt and black pepper.
Put the remaining flour onto a large plate. Form chicken-pumpkin mixture into 16-18 putties, then lightly coat each one in the flour.
In the same skillet, heat the remaining olive oil. Working in batches, add patties and fry for 4 minutes on each side, making sure the chicken is cooked through.
Serve hot.