Crock pot vegan tikka masala recipe. Tofu with vegetables and spices cooked in a slow cooker. Healthy and tasty vegan-friendly, low-carb and gluten-free recipe.
This recipe adapted from https://sweetpeasandsaffron.com/vegan-slow-cooker-tikka-masala/ You may also like Vegan Carrot Ginger Soup
Crock Pot Vegan Tikka Masala Recipe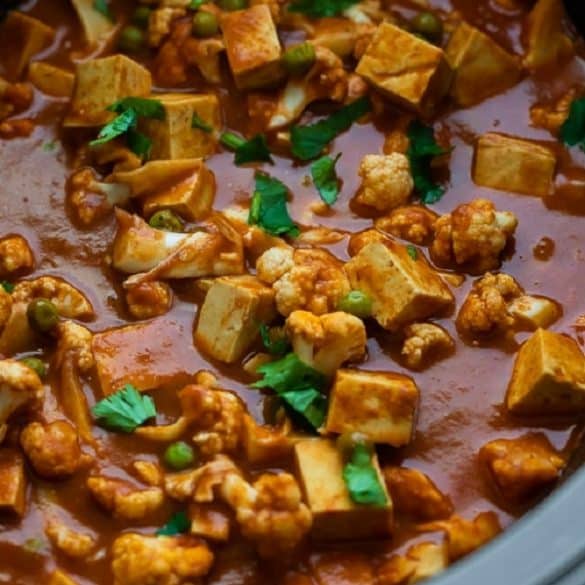 Ingredients
14½ oz (435 ml) can tomato sauce

1 cup (250 ml) coconut yogurt

1/2 teaspoon ground cumin

1/2 teaspoon garam masala

1/2 teaspoon paprika

1/2 teaspoon garlic powder

1/2 teaspoon onion powder

1/2 teaspoon ground coriander

1/2 teaspoon salt

1/2 teaspoon ground ginger

1/4 teaspoon ground cinnamon

12½ oz (370 g) extra firm tofu, cubed

2 cups finely chopped cauliflower

1 cup frozen peas, thawed

1/4 cup chopped fresh cilantro leaves
Instructions
In a 6-quart (6 L) slow cooker, combine tomato paste, coconut yogurt, and spices.
Mix well, then stir in cubed tofu.
Close the pot and cook on low-heat setting for 5 hours.
Open the crock pot. Stir in chopped cauliflower and thawed peas. Close the lid and cook for a further 1 hour.
Turn of the cooker and open the lid. Stir tofu mixture well before serving.
Garnish with chopped cilantro leaves. Serve hot.