Oven-baked pumpkin muffins recipe. Very easy and delicious pumpkin muffins baked in an oven. Versatile pumpkin puree makes these muffins moist and light.
You may like to prepare pumpkin puree at home. The homemade puree is usually a lot moister than canned puree. If you use homemade puree, start with 3/4 cup (180 ml) or more, then drain it in a sieve lined with cheesecloth.
Do you like to cook desserts? Try to prepare Baked Apple Strudel Dessert-a very easy and delicious dessert baked in an oven!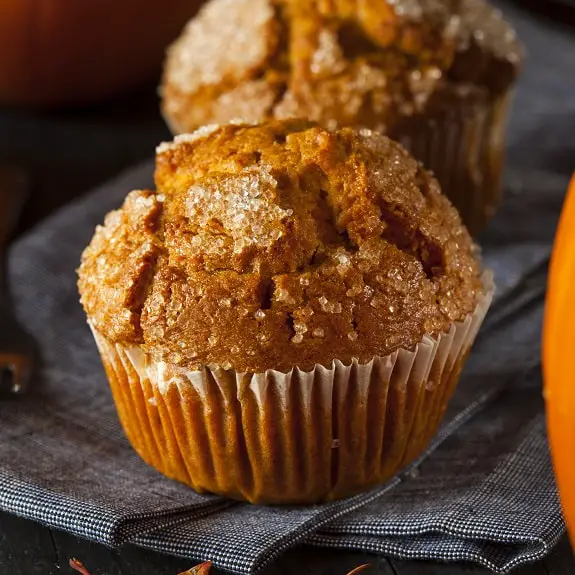 Ingredients
2/3 cup (160 g) whole-wheat flour

2/3 cup (160 g) all-purpose flour

1/4 cup (60 g) granulated sugar

2 teaspoons (10 ml) baking powder

1/2 teaspoon (3 ml) salt

1/2 teaspoon (3 ml) ground cinnamon

1/2 teaspoon (3 ml) ground nutmeg

4 tablespoons (60 ml) cold unsalted butter, cut into bits

1/2 cup (125 g) seedless raisins

1/2 cup (125 ml) skim milk

1/2 cup (125 ml) pumpkin puree

1 large egg, lightly beaten
Instructions
Preheat the oven to 400º F (200º C). In a large mixing bowl, combine the whole-wheat flour, all-purpose flour, sugar, baking powder, salt, ground cinnamon, and nutmeg. Stir well. Blend in the butter until the mixture is crumbly.
Add the raisins, milk, pumpkin puree, and beaten egg, stirring the ingredients until moist.
Lightly grease and flour 12 muffin cups. Spoon the batter into prepared cups. Bake in the preheated oven for 20 minutes or until a toothpick inserted in the center of muffins comes out clean.
Turn off the oven and remove the pan. Put it on a rack to cool for about 10 minutes before removing the muffins.