Pressure cooker eggnog cheesecake recipe. Easy and yummy dessert cooked in an instant pot.
You may also like Pressure Cooker Spicy Thai Chicken Curry
Pressure Cooker Eggnog Cheesecake Recipe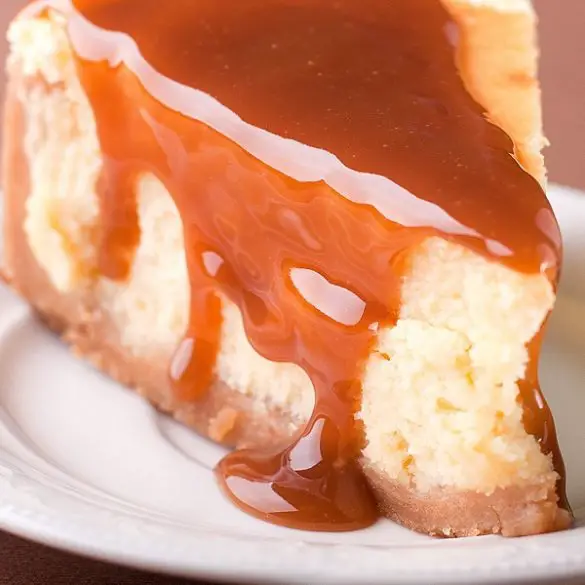 Ingredients
To make a crust:

1 cup finally chopped ginger snap cookies

2 tablespoons brown sugar

2 tablespoons unsalted melted butter

For eggnog cheesecake:

16 oz (480 ml) cubed cream cheese at room temperature

2/3 cup granulated brown sugar

2 tablespoons all-purpose flour

1/2 cup (125 ml) heavy cream

2 large eggs, beaten

2 teaspoons 910 ml) rum extract

1 teaspoon ground nutmeg

1/2 teaspoon ground cinnamon

For the topping:

15 pieces caramel candies

22 teaspoons water
Instructions
Cover the cake pan with piece of parchment paper. Grease the paper and sides with nonstick cooking spray.
In a food processor, combine chopped ginger snap, brown sugar, and unsalted butter. Process until smooth.
Press the mixture into the bottom and upsides about 1-inch (2.5 cm) of 7-inch (17.5 cm) sprig form pan.
Wrap with a plastic wrap and refrigerate while preparing the filling.
To Make the Filling:
In a large mixing bowl, combine cubed cream cheese and brown sugar. Using an immersion blender, blend until well combined and fluffy.
Add heavy cream, all-purpose flour, beaten eggs, rum extract, ground cinnamon and nutmeg. Mix on low-speed setting until thoroughly combined.
Pout the filling into prepared crust.
Pour 1 cup (250 ml) water into the bottom of instant pot.
Cover the cheesecake with aluminum foil, then seal the edges.
Place a trivet in the pot. Arrange the pan on the trivet.
Close the cooker and lock the lid. Set the machine to cook at high pressure. Set the timer to cook for 35 minutes.
Using the Natural Release method, bring pressure to normal. Carefully unlock and open the lid.
Remove the foil and allow the cake cooling completely.
To Make Topping:
In a microwave-safe dish, combine caramels and water. Microwave until caramels are melted.
Stir well. Pour melted caramel over the top of cooled cheesecake.