Pressure cooker spaghetti squash recipe. This healthy noodles recipe is for your favorite pasta sauce. Can be part of paleo recipe, diet, low-carb, keto, vegan, etc. You may also like Carrot Cake baked in an instant pot.
Equipment you may need to make this recipe-electric instant pot, steamer rack, tongs
Pressure Cooker Spaghetti Squash Recipe
This spaghetti squash may be served immediately, or refrigerated closed tightly for up to 3-5 days.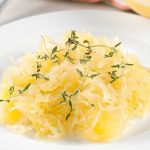 Ingredients
24 oz (720 g) spaghetti squash, halved and seeded

sea salt

2 cups (500 ml) water
Instructions
Season cut sides of squash with sea salt, if desired.
Pour 2 cups (500 ml) water into your electric instant pot. Insert a steamer rack into the cooker, then arrange both halves of the squash on the rack.
Close the pot and lock the lid. Set the machine to cook at high pressure. Set the timer to cook for 10 minutes.
Using the Quick Release method, bring pressure to normal. Carefully unlock and open the lid. Using tongs, remove cooked squash halves from the pot.
Using a fork, fluff out the spaghetti and remove them from the shell. Transfer to a serving bowl. Serve with your favorite spaghetti sauce.
More easy and delicious Pressure Cooker Recipes