Instant pot carrot cake recipe. Very popular keto-friendly dessert cooked in an electric instant pot. You may also like Mushroom Risotto, vegan-friendly recipe cooked in a pressure cooker.
To make this dessert you will need to use instant pot, mixer, nonstick cooking spray, and steamer rack
Instant Pot Carrot Cake Recipe
This cake is keto-friendly, because I used almond flour instead of all-purpose flour and swerve instead a regular sugar. You can use it without a frosting or prepare this homemade keto frosting.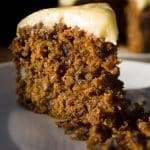 Ingredients
3 large eggs, lightly beaten

1 cup almond flour

2/3 cup swerve

1 teaspoon baking powder

1½ teaspoons apple pie spice

1/4 cup (60 ml) coconut oil

1/2 cup (125 ml) whipped cream

1 cup shredded carrots

1/2 cup chopped walnuts
Instructions
Grease a 6-inch (15 cm) cake pan with nonstick cooking spray.
In a large mixing bowl, combine all ingredients. Using  a hand mixer, mix until fluffy.
Pour the mixture into greased cake pan and cover with aluminum foil.
In the inner liner of instant pot pour 2 cups (500 ml) water, then place a steamer rack.
Arrange foil-covered cake on the trivet. Close the pressure cooker and lock the lid. Press the "Cake" button. Cook for 40 minutes (please note, if you don't have "cake button", just set the machine to cook at high pressure, then set the timer to cook for 40 minutes).
Using the natural Release method, bring pressure to normal. Carefully unlock and open the lid. Remove baked cake from the pan and transfer to a wire rack.
Cool before spreading a frosting, if using. Enjoy!