Instant pot vegan mushroom risotto recipe. Arborio rice with porcini mushrooms cooked in an electric pressure cooker. Very easy and healthy vegan recipe. You may also like chickpeas cooked in an instant pot, another healthy vegan recipe.
I used arborio rice for risotto, because is a traditional and has best texture and taste. Also, I used porcini mushrooms, but you can use any mushrooms.
Are you looking for more pressure cooker recipes? Please visit our great collection-Pressure Cooker Recipes
Instant Pot Vegan Mushroom Risotto Recipe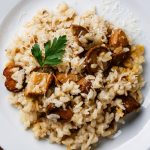 Ingredients
2 vegetable bouillon cubes dissolved in 4 cups (1 L) of hot water

2 cups (50 ml) dried porcini mushrooms

2 tablespoons (30 ml) olive oil

1/4 cup (60 ml) vegan butter

pinch of sea salt, plus more to taste

1 yellow onion, peeled and finely chopped

2 garlic cloves, peeled and minced

1½ cups (375 ml) arborio rice

1 tablespoon (15 ml) soy sauce

1 tablespoon (15 ml) white miso paste

3/4 cup (180 ml) dry white wine

1/4 cup (60 ml) soy cream

chopped fresh parsley, for garnish
Instructions
In a microwave safe dish, combine dissolved vegetable bouillon and dried mushrooms. Microwave until mixture simmers, for about 5 minutes.
Using a slotted spoon, remove soaked mushrooms from the broth, reserving the liquid. Roughly chop mushrooms.
Heat the olive oil in an electric instant pot turned to the sauté mode. Add chopped mushrooms, season with salt and black pepper, and cook in hot oil, stirring occasionally, until golden brown.
Stir in onion and garlic and cook, stirring frequently, for about 3-5 minutes.  Add arborio rice and toast, stirring constantly, for about 3 minutes.
Add soy sauce and soy pasta and stir well to combine. Pour in dry white wine and continue cooking and stirring until wine has evaporated slightly.
Pour in reserved cooking liquid and submerge the rice fully.
Close the instant pot and lock the lid. Set the machine to cook at high pressure. Set the timer to cook for 5 minutes.
Using the Natural Release method, bring pressure to normal/ Unlock and open the lid. Stir the risotto mixture until get a creamy consistency.
Stir in soy cream and chopped  fresh parsley. Season to taste with more salt and black pepper. Serve hot.