Fried keto cauliflower pancakes recipe. Crispy cauliflower pancakes fried in a skillet. Healthy and low-carb keto diet recipe. You may also like Baked Zucchini Casserole, another delicious and healthy vegan recipe baked in an oven.
You can keep these yummy pancaked sealed in plastic container in a refrigerator for up to 3-5 days. Serve them with lime and chopped fresh cilantro leaves. Enjoy!
Fried Keto Cauliflower Pancakes Recipe
To make this recipe you will need to use a food processor.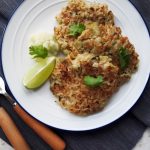 Ingredients
1 head cauliflower, trimmed and separated into florets

2 large eggs, lightly beaten

1/2 cup shredded Mozzarella cheese

2 tablespoons freshly grated Parmesan cheese

1/2 teaspoon garlic powder

1/2 teaspoon kosher salt

1/4 teaspoon freshly ground black pepper

3 tablespoons (45 ml) olive oil

lime wedges

chopped fresh cilantro
Instructions
Place cauliflower florets in a food processor. Process until its texture resembles rice.
Remove cauliflower rice from the processor and transfer to a medium bowl. Add beaten eggs, Mozzarella and Parmesan cheeses, salt, and black pepper. Stir well.
In a large nonstick skillet, heat 1 tablespoon olive oil over medium heat. Measure 1/4 cup of mixture per pancake. Add to the hot oil, then flatten with the back of the spoon. Working in batches, fry in hot oil, turning once, for about 10 minutes.
Repeat 2 more times, adding 1 tablespoon olive oil before each batch.
Remove fried pancakes from the skillet and transfer to a serving plate. Serve with lime wedges and sprinkle with chopped fresh cilantro.