Oven baked zucchini casserole recipe. Since each serving has protein as well as vegetable, it is the best as part of a lunch with some veggies. Do you like zucchini?  Try to prepare very easy zucchini with sour cream:
Baked Zucchini with Sour Cream Recipe
makes 6 servings
Ingredients: 4 tablespoons (60 ml) unsalted butter, 1 medium yellow onion, peeled and chopped, 8 small zucchini, sliced, salt and freshly ground black pepper, to taste, 1 cup (250 ml) sour cream
Instructions: In a large nonstick skillet, melt the butter over medium-high heat. Add the onion and zucchini to the melted hot butter, then season to taste with salt and black pepper.
Cover the skillet, reduce heat to medium, and cook, stirring occasionally, until zucchini is translucent, for about 15-20 minutes.
Remove baked zucchini mixture from the heat and stir in the sour cream. Serve hot.
Oven Baked Zucchini Casserole Recipe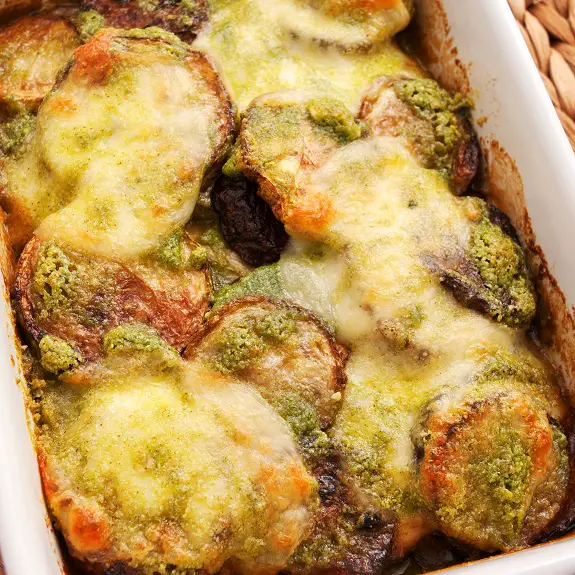 Ingredients
2 tablespoons (30 ml) unsalted butter

1½ pounds (720 g) zucchini, unpeeled, washed and sliced

2 large eggs, beaten

1 tablespoon (15 ml) unbleached flour

1/2 teaspoon (3 ml) dry mustard

1/2 teaspoon (3 ml) ground nutmeg

1/2 teaspoon (3 ml) salt

freshly ground black pepper

1 packet Splenda

1 cup (250 ml) heavy cream

6 oz (180 g) shredded sharp Cheddar cheese
Instructions
Preheat your oven to 325º F (160º C), then grease a large casserole with nonstick cooking spray.
In a large, heavy skillet, melt the butter over medium-high heat.
Add sliced zucchini until tender, stirring frequently. Remove from the skillet, set aside and allow to cool.
Place cooled zucchini in the greased casserole. In a medium mixing bowl, combine beaten eggs, flour, mustard, nutmeg, salt, black pepper, and Splenda. Whisk well.
Add shredded Cheddar cheese and heavy cream and stir well.
Add the egg mixture to the baked zucchini, then mix well.
Place in the preheated oven and bake for 30 minutes.
Turn off the oven and remove baked zucchini casserole. Cool and serve.