Pressure cooker traditional tomato sauce recipe. An excellent homemade tomato sauce cooked in an electric pressure cooker. Easy and delicious. Use it with cooked Italian pasta.
You may also like Tomato Bruschetta Recipe Looking for more pressure cooker recipes? Please visit this great collection-Pressure Cooker Recipes
Pressure Cooker Traditional Tomato Sauce Recipe
Noodle, like pappardelle, is the best for this yummy sauce. However, fresh pasta would be even better.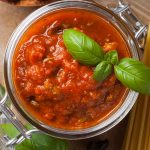 Ingredients
2 tablespoons (30 ml) olive oil

3 tablespoons minced garlic

1/4 teaspoon red pepper flakes

½ cup (125 ml) dry white wine

3 pounds (1.44 kg) plum tomatoes, cored and quartered

¼ cup fresh basil leaves, finely chopped

1/2 teaspoon salt

1/2 teaspoon freshly ground black pepper
Instructions
Heat the olive oil in an electric pressure cooker turned to the browning function.
Add minced garlic and red pepper flakes. Cook, stirring occasionally, until garlic begins to sizzle, for about 3 minutes.
Pour in dry white wine, then stir well as it comes to a simmer. Stir in tomatoes and chopped basil. Bring to a simmer, stirring occasionally.
Close the pot and lock the lid. Set the machine to coo at high pressure.t the timer to cook for 23 minutes.
Using the Quick Release method, bring pressure to normal. Unlock and open the lid.
Using an immersion blender, purée the mixture into a thick sauce.
Switch the electric pressure cooker to the browning function. Bring the sauce to a simmer, stirring occasionally, until it thickened into a rustic pasta sauce, for about 15 minutes.
Season tomato sauce with salt and black pepper. Mix ell.