Slow cooker tomato bruschetta recipe. Popular healthy Italian tomato bruschetta cooked in a slow cooker served over toasted bread. Vegetarian-friendly recipe. You may also like Tomato Mozzarella Bruschetta
Are you looking for more slow cooker recipes? We have a huge collection of them, please check it out-Slow Cooker Recipes
Slow Cooker Tomato Bruschetta Recipe
You can make this recipe ahead. To make it, complete the recipe, then cover and refrigerate tomato bruschetta mixture for up o 3 days. Remove from the refrigerator and bring to room temperature before serving.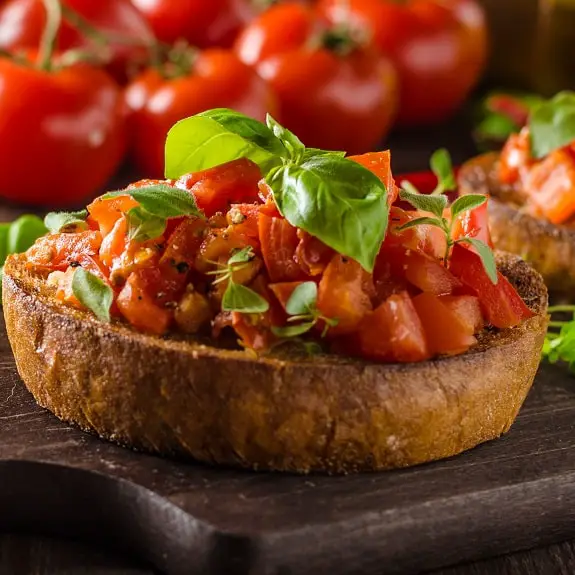 Ingredients
1/4 cup (60 ml) extra-virgin olive oil, divided

28 oz (840 ml) can diced tomatoes, drained

2 cloves garlic, peeled and minced

2 teaspoons chopped fresh oregano

1 teaspoon (5 ml) granulated sugar

1 teaspoon (5 ml) salt

2 tablespoons (30 ml) finely chopped fresh parsley

freshly ground black pepper, to taste

12 slices grilled or toasted bread
Instructions
Place 2 tablespoons olive oil in a slow cooker and swirl to coat bottom. Add drained tomatoes, then sprinkle with minced garlic, chopped oregano, sugar and salt. Drizzle with remaining olive oil.
Cover with a large piece of parchment, pressing it down.
Cover the pot and cook on low-heat setting for 6 hours. Turn off the cooker and open the lid.  Discard the parchment.
Stir in chopped fresh parsley and season to taste with black pepper. Remove tomato mixture from the slow cooker and transfer to a serving plate. Allow cooling to room temperature.
Spoon onto toasted or grilled bread. Enjoy!